The man who brought down Lionel Messi now has Sam Kerr in his sights
Brisbanites having a coffee in the CBD on Thursday morning might have seen a certain Frenchman out for a jog. Mid-50s, fit as a fiddle, going about his business as if he wasn't the coach who brought down Lionel Messi less than nine months ago.
Herve Renard is a figure of football legend. Before last year's men's World Cup he was a two-time Africa Cup of Nations winner with Zambia (2012) and Ivory Coast (2015), who went on to also manage Morocco and Saudi Arabia.
By the end of November 2022 he had gone viral, turned into an international phenomenon overnight after galvanising Saudi Arabia to a come-from-behind group-stage win over eventual champions Argentina.
The 2-1 result in Qatar, one of the greatest upsets in football history, was unthinkable to everybody who watched it - until footage emerged of one of the greatest half-time team talks ever delivered.
Until the world saw Renard in the dressing room, accosting his Arabic translator as if he was marking Messi. Pacing and squatting and frothing at his squad. Mimicking and mocking their ball watching and then hustling like they should be.
"Messi at the middle of the pitch, he has the ball, you stay in front of the defence," came the guttural ultimatum. "You don't know you have to go and mark him in the middle? Take your phone, you can make a picture with him if you want."
But the 54-year-old was his most stirringly incredulous when he stalked the circle and asked: "Don't you feel something? Don't you feel we are able to come back? You don't feel it? Come on guys, this is the World Cup. Give everything."
His players wanted to run through brick walls after that. Midfielder Abdulellah Al-Malki said Renard inspired them to "want to eat the grass".
They conquered Messi that day. On Saturday, Renard will rile up his France women's squad with a view to conquering the Matildas.
"We've come with great ambition," Renard said ahead of Saturday's tournament-defining quarter-final. "And when you come with great ambition, you have to be capable of beating the best teams. There's nothing to fear."
Renard will be recognisable on the sideline at Suncorp Stadium. He is tanned with a chiselled jawline in a ubiquitous tailored white button-up shirt (except when jogging). He has what one might call charisma. He might be James Bond. He definitely has rescued France.
The France Football Federation (FFF) appointed the former defender in March at a time of unprecedented crisis.
The organisation had sacked former manager Corinne Diacre after captain Wendie Renard and teammates Marie-Antoinette Katoto and Kadidiatou Diani announced they would boycott the national team.
At the time Lyon defender Renard, whose concerns were reported not to be personal but related to the overall set-up of the women's team, said she "can no longer support the current system which is far from the requirements of the highest level" and announced she would not play at the World Cup unless conditions changed.
The FFF held an extraordinary executive meeting, Renard the coach left his post at Saudi Arabia and the rest is history. Except for the sideline shenanigans and half-time team talks - nothing has changed there.
"He is exactly the same," says midfielder Kenza Dali, who scored in France's 4-0 victory against Morocco in the round of 16 on Tuesday. "It's funny, I reposted this video on my Instagram - and now he's my coach. He's passionate. He's like this at training, too, so for us it's just usual.
"He's someone who is living football. He's really good at his job. He's so passionate and I love it. If you guys can see what he's saying before the game, I've never seen that from a coach, giving you the passion."
This is Renard's first job coaching women, but already he has steered a fifth-ranked national team packed with individual stars back from the brink of collapse and returned them to their rightful place as tournament fancies.
"During the past maybe they didn't realise exactly how was their level. They have to understand there is no one team better than them," Renard said in July, before France were beaten 1-0 by the Matildas in their World Cup send-off match in Melbourne.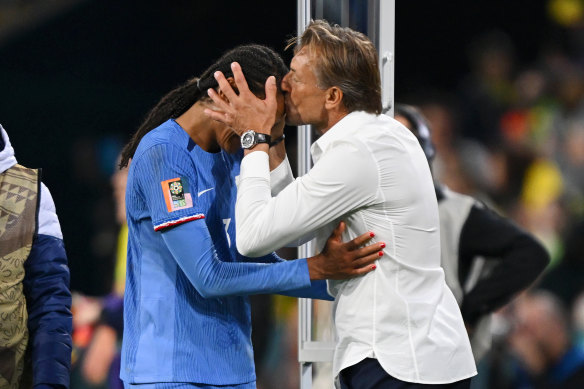 "They need to have a strong character like the USA team, for example - they don't fear anybody. You have to believe in yourself and if this team believes in itself, they will do a fantastic World Cup."
Matildas' coach Tony Gustavsson, speaking on the same day, predicted France would be a "very dangerous" prospect in the tournament proper under Renard. He will undoubtedly have more to say about him in Friday's pre-match press conference.
"It's not often a coach gets to coach two World Cups in one year, right? That must be something unique," Gustavsson said last month.
"If you look at what he's done with the team since he came in, I think he has made the team play with a lot of energy. It feels like he has something very, very interesting going with the team."
Sports news, results and expert commentary. Sign up for our Sport newsletter.