Fresh from a day hobnobbing with the nation's political elite at Parliament House in Canberra on Wednesday, the last inconvenience Qantas chief executive Alan Joyce would have wanted was a delayed early morning flight out of the nation's chilly capital the next day.
Yet, that's precisely what Joyce got when he was forced to wait for his plane to take off from Canberra Airport on Thursday.
Our CBD spies tell us Joyce arrived at the airport in time for his 7.40 flight; however, the aircraft did not take off until 9.11am.
Just as well he touched down in Sydney shortly after 10am, several hours before air traffic controllers closed two of three runways at the city's airport due to strong winds.
A Qantas spin doctor declined to comment on his boss's delayed flight.
Joyce's tour of Canberra's corridors of power was likely one of his last before he leaves the national carrier in November after more than 15 years at the helm. He's set to be replaced by the airline's chief financial officer, Vanessa Hudson.
Earlier this year, it emerged Qantas had boycotted distribution of The Australian Financial Review, hiding newspapers from its lounges in an escalating dispute over the coverage of the airline by the national masthead's columnist Joe Aston.
Aston has taken aim at outgoing chief executive Joyce's leadership, the airline's fleet and customer service repeatedly after Joyce claimed he was not a public figure.
Nine owns the Financial Review, The Sydney Morning Herald and The Age.
Our secret squirrel confirmed that Joyce was not flicking through the pages of The Fin to pass the time on his trip back to the harbour city.
Rudd unveils parliamentary portrait fit for a king
As flagged in this column on Wednesday, Kevin Rudd was at Parliament House on Thursday to unveil his official portrait by the royal family's go-to painter Ralph Heimans. It didn't disappoint.
The canvas is heavy with Enlightenment-style symbolism of the former PM's intellect: a bookshelf behind him, weighty tomes on his desk including in Mandarin; a fountain pen in hand as he looks up from his work.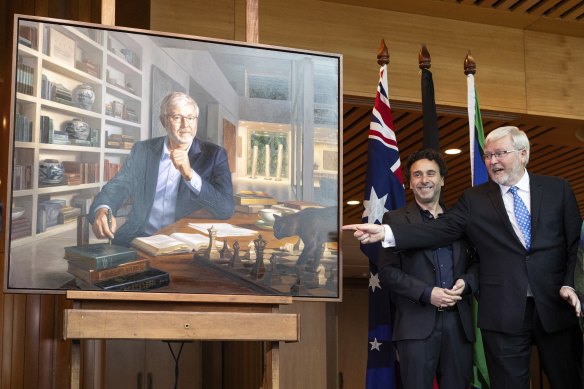 Rudd's cat Louie is seen stalking across a chessboard in the bottom right-hand corner.
But Heimans was quick to squash any speculation this reflected on Rudd's time in parliament, when brutal games of strategy saw colleagues knife him as PM and then Rudd return to the top job.
"Kevin's current cat Louie was determined to annoy us during the sitting and constantly interrupted," the London-based artist told an audience of about 300, which included US ambassador Caroline Kennedy and Australian businessman (and noted Donald Trump supporter) Anthony Pratt.
So, he included Louie in the final piece, also serving as a nice ode to Jasper, the "first feline" when Rudd was prime minister.
"Don't interpret anything that you see in any other political way," Heimans said.
Plan for Sydney's 'Parisian boulevard' hits a speed bump
It's been touted as a contender to become one of Sydney's great high streets, but the inner west's much-maligned Victoria Road corridor is fast morphing into a boulevard of broken dreams.
The Inner West Council has been ramping up pressure on the NSW government to cut traffic lanes and revitalise the road around Rozelle with wider footpaths, a separated bike lane and trees once the final stage of the underground WestConnex motorway opens this year. Plans to revive the state-owned thoroughfare hit a roadblock at a meeting this week after the Labor-dominated council decided against placing its own recently unveiled masterplan for the area on exhibition.
Labor Mayor Darcy Byrne said recent conversations with senior transport bureaucrats had revealed that, despite funding commitments from the previous government, there was "not a single dollar of funding in the NSW government budget for public domain improvements on Victoria Road".
"I feel a bit silly because I was the one who actually suggested to council officers and proposed that we go out and conduct community consultation in preparation of this report because the NSW government had refused to do so, and we knew that the reconfigured Victoria Road was going to be open soon," Byrne said.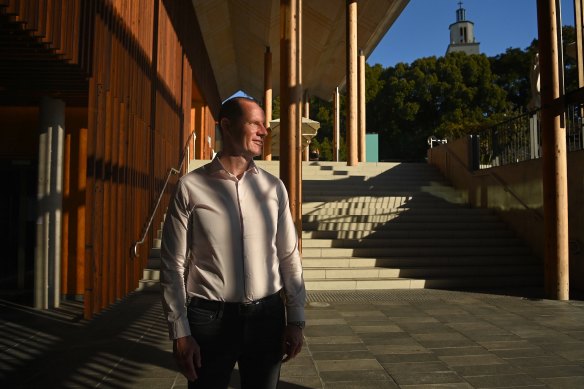 Byrne said he wanted the government to provide more traffic data before the plans to overhaul the state-owned road, which will largely hinge on government investment, were exhibited.
Labor councillor Philippa Scott said the "continued assertion that Victoria Road is going to be a Parisian boulevard just as soon as the Iron Cove Link opens has no basis in reality".
"There are many examples of similar infrastructure projects that have come to naught, Parramatta Road being the best example."
Greens councillor Kobi Shetty, who is also the MP for Balmain, said Labor councillors had "killed off" the masterplan as a way of "shielding the state government from having to support this plan".
"Council spent $240,000 on the master planning process, and it is a real waste of ratepayer's money if you're not going to put it on public exhibition," Shetty said.
Byrne said Shetty's remarks were "frustrating": "We should be in a united position to face the problem left by the previous government," he said.
The Morning Edition newsletter is our guide to the day's most important and interesting stories, analysis and insights. Sign up here.