'I call her my stepsister': How a Matilda terrorised an NRL star
Jackson Hastings has some not-so-fond memories of being beaten up on the sand dunes at Warilla by Caitlin Foord.
"She was always competitive and aggressive," Hastings said of their childhood together on the NSW South Coast.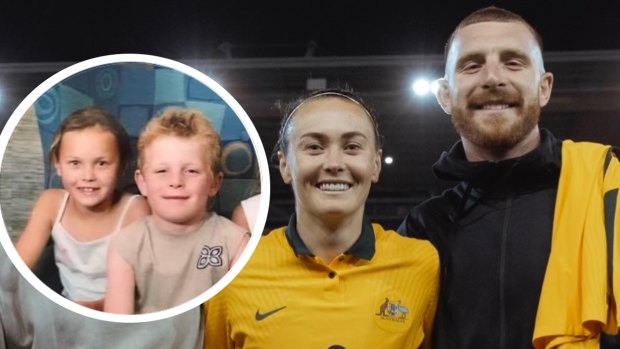 "If you watch the way she plays now she's really got that in her. She hunts down everything and plays with her heart on her sleeve.
"She dominated everything, whether that be OzTag, touch football, athletics or soccer – she was always the pick of the bunch in the Illawarra and always marked to do special things."
The Newcastle Knights NRL halfback and the Matildas star were once inseparable. Hastings' father Kevin, a legend of the Sydney Roosters, used to date Foord's mother Simone.
It created what is still a special bond between the pair that began from pizza nights at home on the South Coast to watching The Simpsons, holidays on the Gold Coast and even afternoons on the hill at Brookvale Oval watching Foord's mother's beloved Steve Menzies and his Manly Sea Eagles.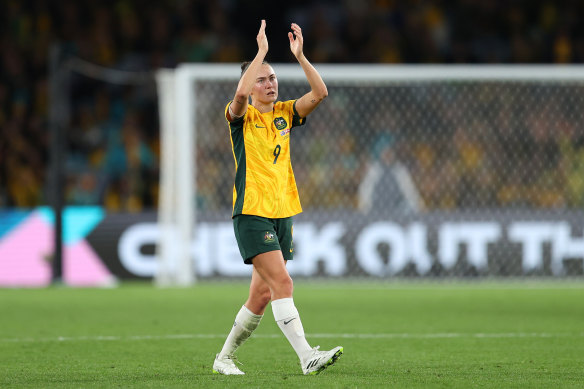 "If anyone asks what's Caitlin Foord to me, I call her my stepsister," Hastings told this masthead after Foord's heroics against Denmark to send Australia into the quarter-finals of the FIFA Women's World Cup.
"I have so much respect for her. She'd probably laugh at that, but that's what she is to me. She's special. I messaged her after the game and said: 'I'm so proud of you, you're special.' She's one of a kind, mate.
"She's an inspiration to so many girls and athletes. She's one of the girls in that Matildas squad inspiring that next generation. Obviously, Sam Kerr is right up there, but Caitlin is one of the pioneers of Australian sport making little girls want to go out there and play soccer, or football as they call it in most parts of the world.
"I don't know if you know what she's managed to overcome with all her injuries not being able to run at one point. She's just never changed. As high profile as she is, she never changed. She's so kind and giving of her time. I told her how proud I was. She's not only inspired young girls, she inspires me with the way she is with her family."
The impact the Matildas have had during this year's World Cup has been far-reaching. So much so that it was the talk of training at NRL clubs.
"The first thing we spoke about when we got into training on Tuesday was how good the Matildas were last night. It was on everyone's mind," Hastings said of the Matildas' 2-0 win over Denmark on Monday night.
"The boys were saying how good the game was, how good the Matildas were, how big the crowd was ... it's awesome to see it getting spoken about in male change rooms. Hopefully, that becomes the norm. It should already be the norm.
"It wouldn't have happened five years ago but, as the years go on, the emergence of these superstars like Caitlin and Sam Kerr have shown girls what they can become. You can see it in the NRLW as well. There are so many superstar athletes. When the Rugby Sevens girls won the gold medal, it shows now that there is so much interest in female team sports, not just individuals.
"The equality is going to take some time, but the amount of revenue and traction these girls have got for the Matildas is incredible. The crowd, the TV ratings were bigger than Origin and grand finals. They've captured the imagination of men, not just women and children."
Sports news, results and expert commentary. Sign up for our Sport newsletter.