How dog-sharing became a solution to 'pandemic puppy' problems
Natalie Hollenberg Stal's dog lives around the corner from her, her husband and two children – but he's still very much part of their family.
"When we drive past his house – when he's with his owner – my two-and-a-half-year-old will scream 'Bear'," says the hypnotherapist and coach.
For the past 18 months, the family from Nairne in the Adelaide Hills have borrowed Bear the collie, who belongs to their neighbour Kalab Brinkworth, for eight days every fortnight. Brinkworth is a fly-in, fly-out worker, who splits his time between Adelaide and remote South Australia.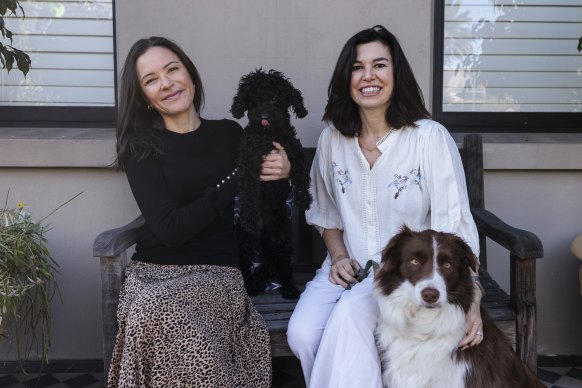 For the Hollenberg Stal family, who travel regularly with their toddler and six-year-old, it's the perfect arrangement. Although an unintentional set-up, they're part of an increasing number of people who are sharing pets, post-COVID.
"I grew up having dogs and certainly see the huge benefit of kids building a relationship with an animal [and] looking after it, but we as a family don't want that full-time commitment," says Hollenberg Stal. Besides providing a reason for the kids to get outside, Hollenberg Stal's six-year-old is also helping train Bear.
Brinkworth says that "as a man's best mate, I like to know that Bear is cared for by someone who enjoys having him around".
While sharing Bear's care started as a way for Hollenberg Stal to help out a friend, it soon became something she wanted to do long-term, as a way to have a dog in their family without responsibility and cost of owning a pet. And they're not the only family benefiting from a convenient dog-share.
Genie Pepper, a psychotherapist based in Sydney's Randwick, looks after her friend Lauren Healey's cavoodle while working from home. Healey, a single mum who lives in an apartment with her daughter, bought Coco last October, but has since gone back to working from the office in her HR role.
"We do this with our children, sharing dance and school drop-off and pick-up," says Pepper. "So, this is just a flow on."
Pepper says she gives Healey access to her home to drop-off and collect Coco, and that in-between clients she's able to talk to her and top up the dog's water. Healey says that, besides the benefits for Coco being around people, it also saves her money on doggy daycare.
Dr Kate Mornement, a Melbourne-based board-certified applied animal behaviorist with the Animal Behavior Society, says she has seen an increase in dog-sharing, predominantly between separated and divorced couples, but also between adult kids and their families, after the pandemic.
"Things to keep in mind when sharing a pet include keeping a relatively consistent routine and ensuring you're consistent in terms of your pet's training and behaviour, feeding and exercise," says Mornement.
For those who don't have a friend or neighbour looking for a dog to share or borrow, online pet-sitting community Pawshake is working to connect people and pets.
With Aussie pet ownership having increased during COVID – and now at a record high – Pawshake experienced a 50 per cent increase in new sitters over the past year, says Australian community manager Jessica Tanner. Pawshake, which launched in Australia in 2013, now has 25,000 active sitters in Australia, making it their largest market.
On the website, users build a profile, which is then vetted by Pawshake. Past pet-caring experience is a must and users need to show images of the space where pets will stay. "We probably only accept about 25 per cent of applicants," says Tanner.
While most people using the site are going on short- or long-term holidays, Tanner says she has noticed a trend of people without pets using the service to see what owning a dog would be like or to test out whether their kids are ready.
"The industry is growing and growing. It seems like pets are almost like the new Millennial's child in many ways," she says. "They're a part of the family in ways that they hadn't been before, especially coming through the lockdown."
Make the most of your health, relationships, fitness and nutrition with our Live Well newsletter. Get it in your inbox every Monday.