Hawaiian island wildfire death toll jumps and will probably keep rising, says governor
By
Audrey Mcavoy

,

Jennifer Sinco Kelleher

and

Nick Perry
Updated
first published at
Wailuku, Hawaii: Hawaii Governor Josh Green said that 53 people were killed in the devastating Maui wildfires, and the death toll will likely continue to rise.
Search and rescue operations were continuing, Green said on Friday (AEST), and officials expect it will become the state's deadliest natural disaster since a 1961 tsunami killed 61 people on the Big Island.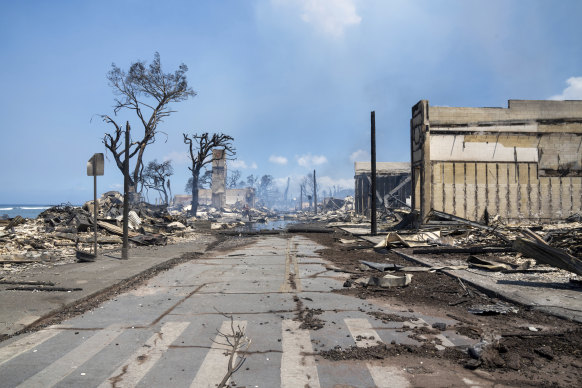 More than 1000 structures were destroyed by fires that are still burning in Lahaina and surrounding areas.
"Lahaina, with a few rare exceptions, has been burned down," the governor told The Associated Press.
The search of the wildfire wreckage on the Hawaiian island revealed a wasteland of burned out homes and obliterated communities as firefighters battled the stubborn blaze.
Fuelled by a dry summer and strong winds from a passing hurricane, the fire took the island by surprise, racing through parched growth and neighbourhoods in the historic town of Lahaina, a tourist destination that dates to the 1700s and is the biggest community on the island's west side.
The Hawaii fire is the deadliest US wildfire since the 2018 Camp Fire in California, which killed at least 85 people and laid waste to the town of Paradise.
The Hawaii toll could rise, however, as rescuers reach parts of the island that had been unreachable due to ongoing fires or obstructions.
"We are still in life preservation mode. Search and rescue is still a primary concern," said Adam Weintraub, a spokesperson for Hawaii Emergency Management Agency.
He said search and rescue teams still won't be able to access certain areas until the fire lines are secure and they're sure that they're going to be able to get to those areas safely.
"What we have here is a natural disaster," Weintraub said. "There may have been questions that need to be examined about whether it was handled in the right way. But we still got people in danger. We still have people who don't have homes. We still have people who can't find their loved ones."
The flames left some people with mere minutes to act and led some to flee into the ocean. A Lahaina man, Bosco Bae, posted video on Facebook that showed fire burning nearly every building on a street as sirens blared and spark-filled winds roared by. Bae, who said he was one of the last people to leave the town, was evacuated to the island's main airport and was waiting to be allowed to return home.
Lahaina residents Kamuela Kawaakoa and Iiulia Yasso described their harrowing escape under smoke-filled skies. The couple and their six-year-old son got back to their apartment after a quick dash to the supermarket for water, and only had time to grab a change of clothes and run as the bushes around them caught fire.
"We barely made it out," Kawaakoa, 34, said at an evacuation shelter, still unsure if anything was left of their apartment.
As the family fled, a senior centre across the road erupted in flames. They called 911, but didn't know if the people got out. As they drove away, downed utility poles and others fleeing in cars slowed their progress. "It was so hard to sit there and just watch my town burn to ashes and not be able to do anything," Kawaakoa said.
As the fires rage, tourists were advised to stay away, and about 11,000 flew out of Maui on Wednesday, with at least another 1500 expected to leave, according to Ed Sniffen, state transportation director. Officials prepared the Hawaii Convention Centre in Honolulu to take in the thousands who have been displaced.
The fires were fanned by strong winds from Hurricane Dora passing far to the south. It's the latest in a series of disasters caused by extreme weather around the globe this summer. Experts say climate change is increasing the likelihood of such events.
As winds eased somewhat on Maui on Thursday, pilots were able to view the full scope of the devastation. Aerial video from Lahaina showed dozens of homes and businesses razed, including on Front Street, where tourists once gathered to shop and dine.
Smoking heaps of rubble lay piled high next to the waterfront, boats in the harbor were scorched, and grey smoke hovered over the leafless skeletons of charred trees.
"It's horrifying. I've flown here 52 years and I've never seen anything come close to that," said Richard Olsten, a helicopter pilot for a tour company.
"We had tears in our eyes."
President Joe Biden declared a major disaster on Maui on Friday.
He ordered all available federal assets to help with the response and said the Hawaii National Guard had mobilised helicopters to help with fire suppression as well as search-and-rescue efforts.
"Our prayers are with those who have seen their homes, businesses and communities destroyed," Biden said in a statement.