Outgoing Reserve Bank governor Philip Lowe has signalled interest rates could climb further, but it will depend on how consumers respond to the sharp tightening of monetary policy over the past year.
Lowe, making his last appearance before the House of Representative's economics committee before he is replaced by his deputy Michele Bullock next month, said there were encouraging signs that inflation was coming back towards the bank's 2-3 per cent target.
The bank has lifted the official cash rate by 4 percentage points since May last year, the most aggressive increase in interest rates since the 1980s.
Inflation has eased over the past six months but remains elevated at 6 per cent.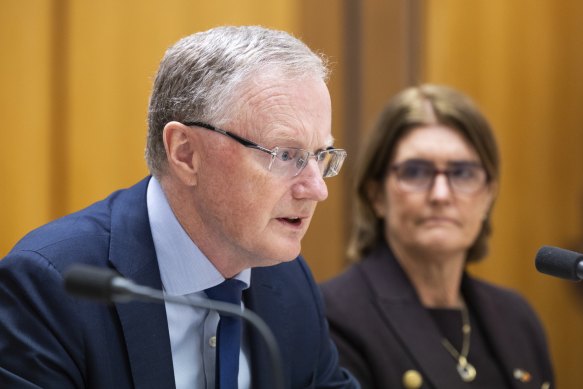 While unemployment remains around 3.5 per cent, both the RBA and the federal Treasury are expecting economic growth to slow. The bank is forecasting the economy to grow by just 0.9 per cent this year.
Lowe admitted it was a "complicated" situation at present, especially if inflation did not fall as quickly as expected.
"It is possible that some further tightening of monetary policy will be required to ensure that inflation returns to target within a reasonable timeframe. Whether or not this is the case will depend upon the data and the (bank) board's evolving assessment of the outlook and risks," he said.
"It is encouraging that the recent data are consistent with inflation returning to target over the next couple of years.
"The data are also consistent with the Australian economy continuing to travel along that narrow path that I have spoken about for some time – that path is one that leads to inflation coming down within a reasonable timeframe and the unemployment rate remaining below the levels of the past 40 years."
Lowe said there were two substantial risks to the economic outlook.
Inflation for services could remain elevated for longer, which may require higher interest rates.
The other risk was household spending which, though falling in real terms, was being held up by a strong jobs market, but this could change quickly especially if people start to feel the pinch of higher interest rates.
"The decline in real incomes and higher interest payments are squeezing the budgets of many households," he said.
"While around one million borrowers have already transitioned from low fixed-rate loans to loans with higher interest rates, a similar number will make that transition over the next 18 months."