Your starting XI: The idiot's guide to the Matildas
There's plenty of room left on the Matildas bandwagon for any Australian who still wants to get behind their national team at the Women's World Cup.
If you're only just getting across Tony Gustavsson's side and their brilliant World Cup campaign so far, here's a handy guide of fun facts that might be useful.
1. Why are they called the Matildas?
When Australia's women qualified for their first World Cup in 1995, it was decided they needed a proper nickname.
SBS and the Australian Women's Soccer Association (AWSA) ran a viewer competition to give fans a say in what the team should be called.
The options were the Soccertoos, Waratahs, Lorikeets, Blue Flyers and Matildas.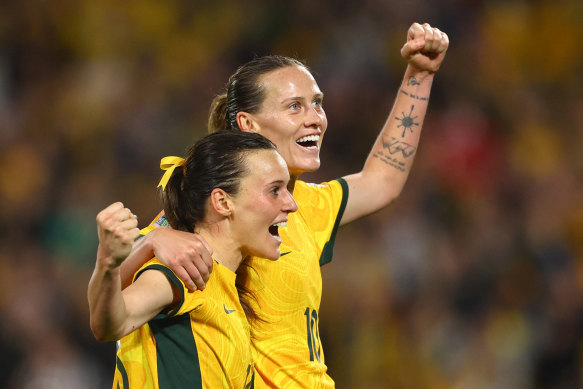 The latter, as history shows, won out.
The name Matildas actually derives from the 13-metre tall kangaroo mascot from the 1982 Commonwealth Games in Brisbane.
Vince Rugari wrote a great piece on the story of the Matildas' name here.
2. What happens if the Matildas keep winning?
The Matildas are preparing for a blockbuster quarter-final against France on Saturday at Suncorp Stadium (5pm AEST kick-off).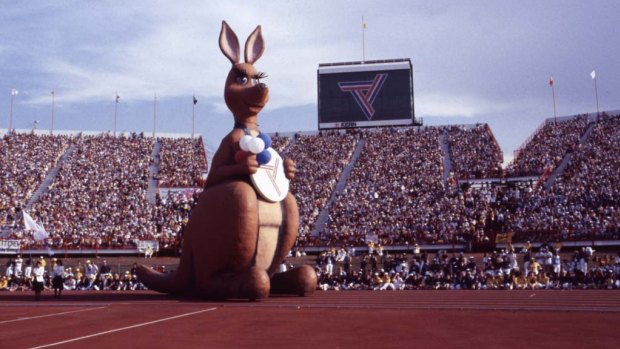 If Australia can pull off a win in that match, they'll progress to a semi-final on August 16 (next Wednesday) against either England or Colombia. That match will kick off at Stadium Australia at 8pm.
Should they manage another victory, the Matildas will march into a historic World Cup final on August 20 in Sydney.
If Australia were to lose a semi-final, they would head to Brisbane for a third place play-off match on August 19.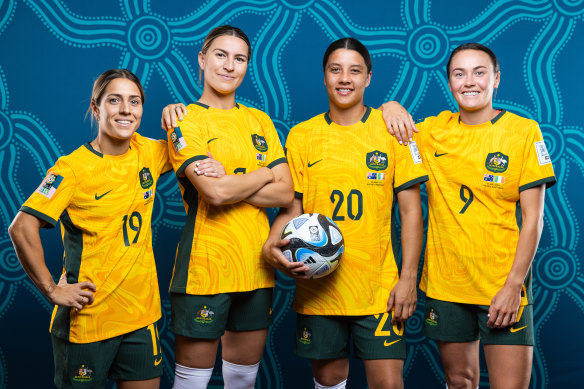 What would happen if the Matildas won the World Cup?
You're getting into potential public holiday territory if that remarkable result played out.
3. Is this the best the Matildas have ever performed at a Women's World Cup?
As it stands, this is Australia's equal best result from eight World Cups. Already at this tournament, the Matildas have made the last eight. There are 32 teams competing.
At the last World Cup in 2019, Australia lost in the round of 16 against Norway in a penalty shootout, so this is already an improvement.
In 2007, 2011 and 2015, Australia featured in quarter-finals, but there were fewer teams in those tournaments (16 sides in 2007 and 2011, 24 teams in 2015).
4. Why can't I see these Matildas players in the A-League Women?
Unlike years gone by, many of Australia's top female players are plying their trade around the world.
Sam Kerr, for example, is arguably the best female striker in the world after a phenomenal few years for Chelsea.
Nine of Australia's starting 11 players from Monday night's victory over Denmark have contracts with overseas clubs. That doesn't include Kerr, who came off the bench in that match.
The full list of players and their overseas clubs are as follows: Mackenzie Arnold (West Ham United), Steph Catley (Arsenal), Alanna Kennedy (Manchester City), Ellie Carpenter (Lyon), Emily van Egmond (San Diego Wave FC), Kyra Cooney-Cross (Hammarby IF), Caitlin Foord (Arsenal), Hayley Raso (Real Madrid) and Mary Fowler (Manchester City).
Clare Hunt (Western Sydney Wanderers) and Katrina Gorry (Brisbane Roar) were the two Australian-based players from the last Matildas starting side.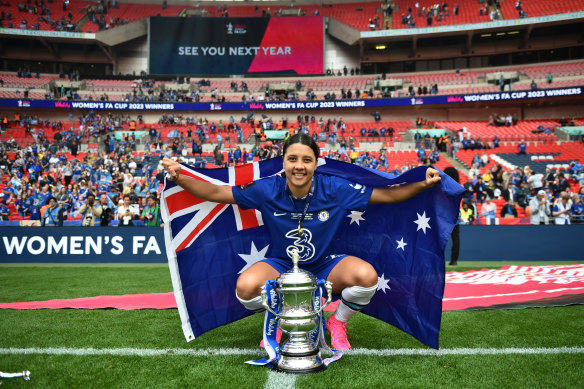 It's a similar number when it comes to the Socceroos. From the starting team that faced Argentina at last year's World Cup in the round-of-16 match, only one player (Mathew Leckie) didn't have an overseas contract.
5. What's the go with Sam Kerr?
If you haven't been following Kerr's journey through this World Cup, the Australian star was a shock absentee from the team sheet ahead of Australia's first match against Ireland. It was such a big surprise because Kerr attended a press conference on match eve next sitting to coach Tony Gustavsson. No one had any clue that she was injured.
The Matildas gave little away about Kerr's injury during the early stages of the tournament. She was named on the bench for Australia's final pool match against Canada but didn't take the field.
With Australia ahead 2-0 against Denmark on Monday night, Gustavsson brought Kerr on for her first minutes of the tournament, much to the delight of a 75,000-strong crowd at Sydney Olympic Park.
There is plenty of intrigue to see whether Kerr starts in Saturday's quarter-final against France.
6. Why does Mary Fowler wear gloves?
Fowler, the 20-year-old rising Australian star, was arguably the Matildas' best player on Monday night.
However, Fowler's decision to wear gloves during the match caught the eye of some viewers. There have been players to do so in the past, for a whole host of reasons, but Fowler's choice is a little unique.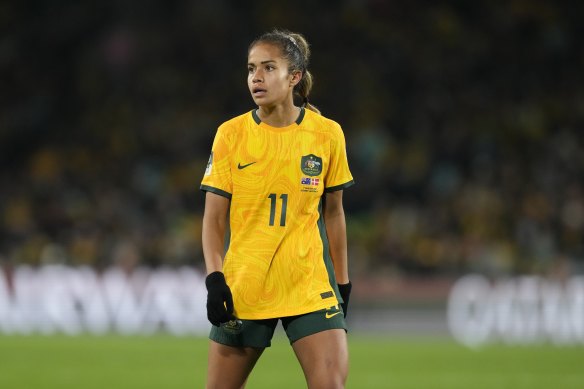 "It's a bit silly," Fowler told Optus Sport recently. "I honestly just wear gloves because I get really fidgety. So, usually I train with a ring on, but if it's cold, I wear gloves and I can't wear a ring in a match, so I usually wear gloves." There's your answer.
7. Why isn't every game being shown on free-to-air?
Channel Seven (free-to-air) and Optus Sport (pay TV) are the two broadcasters of the Women's World Cup.
Just 15 of the 64 matches in the tournament are being shown on Channel Seven. At last year's men's World Cup, all 64 matches were available on free-to-air TV, via SBS and SBS on Demand.
Seven will show the Matildas match on Saturday, but the other three quarter-finals won't be on free-to-air.
The Women's World Cup, unlike the men's tournament, is not on Australia's anti-siphoning list.
This meant free-to-air networks were not given the first opportunity to buy the television rights for the tournament ahead of pay TV providers.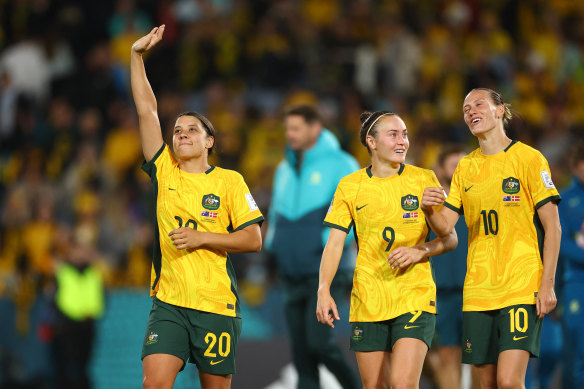 Optus came in hard and bought rights to all matches. Seven only wanted a smaller number, given they would have to pay a premium to Optus.
8. How much money are the Matildas making?
Australian players were set to pocket roughly $US30,000 ($45,000) if they competed in the tournament, as part of $US152 million in FIFA prize money.
Now that the Matildas have reached a quarter-final, they will take home a minimum of $US90,000 each.
If the Matildas went all the way and won the World Cup, each player would receive roughly $402,000.
9. What is VAR?
If you're wondering what VAR stands for, it's Video Assistant Referee.
Its primary objective is to support the decision-making process of the referee in four main areas. These are:
Goals and offences leading up to a goal.
Penalty decisions and offences leading up to a penalty decision.
Direct red card incidents.
Mistaken identity.
During the Matildas' match against Denmark, Australia should have been awarded a corner, but VAR is unable to overturn such a decision. The review system has been particularly divisive in recent years.
Here's a brilliant visual explainer on the VAR and offside rule.
10. Why does Raso wear ribbons in her hair?
Keep an eye out for Hayley Raso and her ribbons. There's a great backstory behind them.
She's worn them her whole career. Raso's grandmother, Pat, has always given her ribbons that match her jersey for each game. After each game, Raso gives her ribbons away to a fan.
They're helpful to keep the hair out of Raso's face, but having family with her on the field means a lot to the 28-year-old.
11. Why does Sam Kerr wear the No.20?
Many people have wondered why she doesn't have a lower number, like many other greats of the sport.
There is no cracking yarn as to why Kerr wears No.20.
She was simply assigned the number when she first came into the Matildas as a 15-year-old in 2009. She never wanted to change the number, despite becoming a starting player.