Why Skelton changed his mind on becoming Wallabies captain
When Eddie Jones asked Will Skelton this week if he wanted the honour of becoming the 87th Wallabies captain at this year's Rugby World Cup, the towering 203-centimetre second-rower said he wasn't interested.
It was not an answer that caught Jones completely off guard.
"I asked him to have a think about it because sometimes, particularly for the humble players, captaincy is not something they want," Jones said. "You have to encourage them to take it. I've had similar situations with other good men like Will."
Skelton, who played just 66 minutes across two matches at the 2015 Rugby World Cup before suffering a pectoral injury, went away and pondered the proposal. He thought about his family.
The magnitude of what Jones had offered finally sank in for Skelton, who will walk in the footsteps of Andrew Slack, Nick Farr-Jones, John Eales, George Gregan, Stirling Mortlock, James Horwill, Stephen Moore and Michael Hooper by leading the Wallabies at a Rugby World Cup, starting next month in France.
Skelton said he was "shocked and nervous" when Jones asked him to lead Australia, less than seven weeks after the Wallabies coach appointed Michael Hooper and James Slipper as co-captains of the team.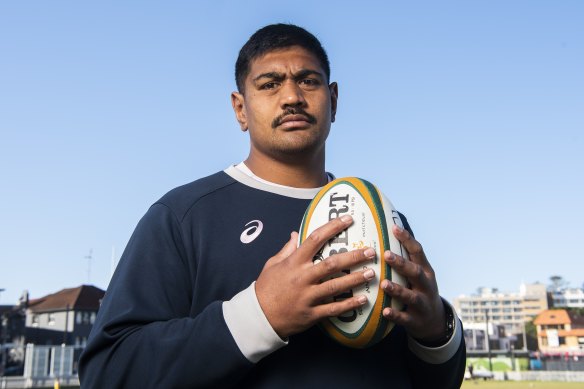 This time last week, Jones unveiled Tate McDermott as Wallaby captain No.86.
On Thursday, Jones surprised everyone by unveiling Skelton as the next man in.
Skelton didn't play a Test for the Wallabies from November 2016 to November 2021.
It is a significant change of heart and direction, less than a month before Australia's World Cup campaign begins against Georgia in Paris on September 9.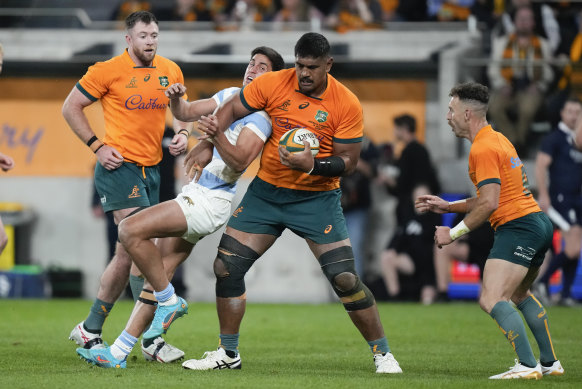 "I was very reluctant at first but when the big man calls you, you follow his lead," Skelton said. "I trust his guidance. I am excited for what we have in store.
"It's very special, not just for me but my family. To represent this country and pull on the jersey is one thing. To be named captain … is something I will never forget. What comes with that is a lot of responsibilities and pressure."
What is most remarkable about Skelton being elevated to the most prestigious role in Australian rugby is that he has only captained a side once.
During Australia's spring tour of 2016, Skelton was asked to lead a Wallabies XV against a French Barbarians side in Bordeaux. Australia lost the match 19-11.
However, when Skelton spoke after the game, the similarities are easy to spot, seven years on.
"I was shocked at first," Skelton said in 2016 of the captaincy role. "I still don't think it's sunk in. I've never been captain. It wasn't something I was expecting but I loved every moment of it."
Seven years later and after winning a number of European rugby titles, Skelton is one of the few players in this Wallabies squad who have had genuine success recently.
"I lack a lot of [experience]," Skelton said. "I'm excited for this challenge. We're looking to make some headlines in France.
"The captaincy was never in my thoughts or any future thoughts. With this role, I'm not going to change anything.
"It's about being myself and leading in the only way I can, which is [through] my actions. I'm not much of a talker around the team but it's about those micro-comms and getting this group well-connected for the hard slog that is going to be the World Cup."
There is no guarantee Skelton will be Australia's captain for the entire World Cup, given injury or concussion might prevent that from happening. And given how much Jones has chopped and changed his personnel across four Tests this year, it would be impossible to say with certainty there will not be more selection twists and turns in France.
But Jones, who named his Wallabies squad on Thursday, is supremely confident he's onto a winner with Skelton.
"At the start, there is a bit of trial and error," Jones said. "We went with a few inexperienced guys in Hoops and Slips. But unfortunately Hoops got injured after one game, so that was the end of that experience. Slips captained for the second game. We brought Tate in for the fourth game and we've been looking at what is the right mix.
"It's more than a captain. It's leading the team. You can be a good captain but a poor leader.
"We've been thinking about it pretty strongly for two weeks. When you get up to World Cup selection, it's the only thing you think about for a period of time.
"Will is a good man and team man. He's played in a lot of winning teams in Europe and he brings that common touch to the team."
Watch all the action from Rugby World Cup 2023 on the Home of Rugby, Stan Sport. Every match ad-free, live and on demand in 4K UHD from September 9.
Sports news, results and expert commentary. Sign up for our Sport newsletter.