Forget Barbie, Dune: Part Two or The Hunger Games prequel film: over on TikTok, the year's most anticipated film might just be Red, White and Royal Blue, Amazon Prime Video's queer romcom about the son of a US president and a British prince.
Adapted from Casey McQuiston's 2019 New York Times best-selling novel of the same name, the film has the kind of in-built fans that streamers and movie studios dream of: passionate, TikTok-powerful, and ready to promote with endless memes and content. And it's already begun.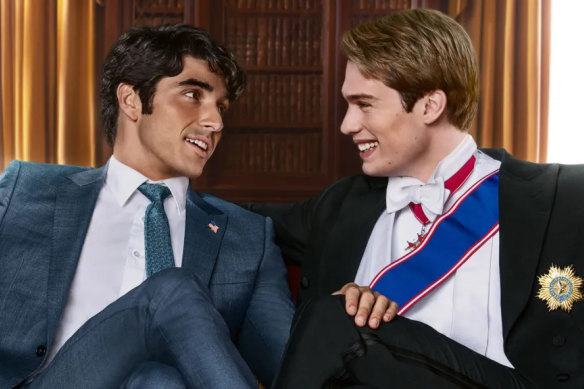 #RWRB and other associated hashtags have amassed more than 100 million views, as fans make romantic edits of trailer snippets, imagine their own sequels, spin-offs, and more.
They're entirely enraptured with the fairytale story of Alex Claremont-Diaz (Taylor Zakhar Perez, The Kissing Booth), a bisexual, biracial Texas-raised charmer, and the isolated, bookish beauty Prince Henry (Nicholas Galitzine, Cinderella).
Light, frothy and fun, their love is made to be obsessed over, a triple-layer cake of sugary romance tropes. Enemies-to-lovers, falling for the president's son, and falling for royalty, all at once. With neither of them out to the public or their families, they agree to keep their relationship a secret – but as their feelings develop, can they keep their love in the shadows?
If it's all sounding a little too sweet, a dash of political intrigue adds some spice. McQuiston came up with the story during the 2016 US election, with Democratic president Ellen Claremont (Uma Thurman) essentially an alternate reality to Hilary Clinton's loss. The romance unfolds during Claremont's re-election campaign, a potential scandal as they try swinging Texas blue. And with no immediate royal family members publicly identifying as LGBTQ to date, Red, White and Royal Blue's premise offers a "what if?" at how Buckingham Palace would handle a same-sex relationship.
Considering Alex is biracial, the Crown's treatment of Meghan Markle echoes in the background too, even if not directly addressed. It's for the best, given we know that the royal family's approach to race won't make for a happy ending, that would make for an entirely different film. How the royals would openly confront homophobia, on the other hand, is largely unknown.
On the scale of queer coming-of-age stories, Red, White and Royal Blue is as far removed as it could be from the traumatic onslaughts of, say, A Little Life. Instead, it sits snugly in the heartwarming romance territory alongside two fellow recent hit adaptations: Netflix series Heartstopper and 2018 film Love, Simon and its spin-off series Love, Victor. They're all gentle yet powerfully affirming stories where homophobia is easily conquerable via true love – a wish fulfilment in place of the harsher reality for most queer people.
There is a lot to celebrate about a film like Red, White and Royal Blue, purely in terms of sexual and racial representation. McQuiston has created a zeitgeist-capturing story that means a lot, especially to younger audiences, and the film will reach a much bigger audience than the book ever could. But representation doesn't make a work on its own, and unfortunately, the main difference between Red, White and Royal Blue and aforementioned others in the genre is its quality.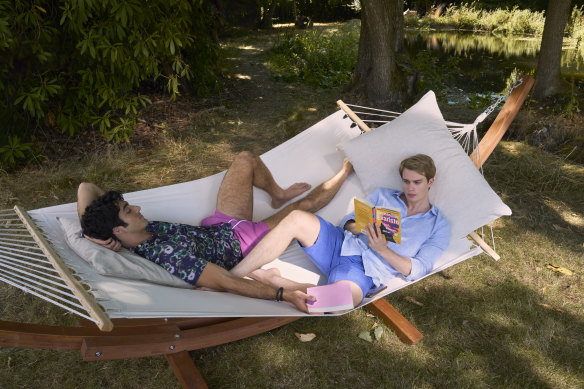 This is not a particularly well-made movie. It's downright ugly, with a surprisingly cheap made-for-TV sheen. It's astonishing that first-time director Matthew Lopez joked toVanity Fair that it's the "most expensive fan fiction" ever made: putting aside that 50 Shades of Grey exists, the money simply doesn't show up on the screen.
On one level, it's refreshing to see a streamer not wrap up a pulpy story in a faux-prestige aesthetic. Red, White and Royal Blue doesn't hide that it's glorified fan fiction. But does it have to feel so lifeless and staged? There's a much better, still sugary-sweet version of this movie, one without empty backdrops, pointless exposition, constantly backlit characters and truly odd acting moments from the supporting cast – including Thurman's histrionic southern lilt, reminiscent of the small-town chicken lawyer in Futurama.
Still, the film is filled with charm, thanks to the genuine electricity between its two leads. While not as explicit as its highly publicised R rating in the US would have you believe, its sex scenes are raunchy, believable, and tender. As the couple's intimacy builds, Perez and Galitzine perfectly portray that increasing comfort and lack of inhibition around each other's bodies: it's an undeniable connection.
Their flirtations are the film's best-written, acted, and directed moments, to the point that perhaps the attention to detail here left the rest of the movie ignored. At the same time, we all know what we're here for. The film hits the brief of being a steamy queer royal romance, and those looking for something with more care behind it might be best to check out Netflix's Young Royals, a sexy queer Swedish series with a similar storyline.
Red, White and Royal Blue will no doubt receive rave reviews and takes on TikTok, but it's far from a vital watch. That itself is, ironically, somewhat important: queer love stories should come in all shapes and sizes, and that includes cheesy second-screen ambient watches.
Find out the next TV, streaming series and movies to add to your must-sees. Get The Watchlist delivered every Thursday.