The Matildas are hoping to create history by winning the World Cup, but they already hold a unique position by being the first, and only, national sporting team to go on strike in the modern era.
In 2015, the Australian squad - including current members Sam Kerr, Caitlin Foord, Katrina Gorry and Steph Catley - refused to tour America and play against the world champion United States team over a pay dispute.
The history-breaking decision was made after they marched down Sydney's Oxford Street, briefcases in hand, to confront the game's rulers, Football Federation Australia, with Matildas contracts worth just $21,000 before match payments, below the country's minimum wage.
The meeting resulted in them refusing to board a plane to take the United States, creating history for a national team and associated industrial action.
"We walked straight out to the cameras waiting and said, 'that's it, we're not going into camp, we're not going to play the US, we're on strike'," says former Matilda Kate Gill, recalling the aftermath of a meeting at Frank Lowy's old FFA headquarters.
"You don't say no to the world champions. That's a game you always want to play in. But players were frustrated and fed up, and knew they deserved better. It wasn't about them in that moment, it was about what it meant for the next generation."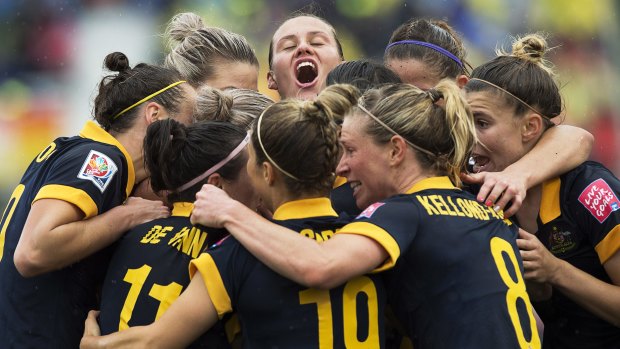 The next generation is infatuated with the Matildas and their run through the draw of a home World Cup. Helicopters are now hovering over Matildas' training to catch a glimpse of Kerr, when her national teammates once walked through Sydney's CBD without as much as a sideways glance.
Back then the Matildas had just returned home from their most successful World Cup campaign, dumping Brazil out of the tournament and reaching the quarter-finals in 2015, and felt "hurt". Each player received $750 for playing in the final-eight clash.
Negotiations with the governing body, known as FFA at the time, over a new collective bargaining agreement had been ongoing for months and quickly broke down upon their return.
At the time, then FFA chief executive David Gallop accused the Professional Footballers Association of dragging the Matildas into a dispute he said was primarily about A-League funding and its salary cap, as the men's competition bled money. The FFA, he argued, had provided a revenue share proposal to the PFA, and suspected men's players weren't willing to give up as much as they should.
But it was also a time when the Matildas found their own voice.
The tour of the US against the likes of superstars Megan Rapinoe, Alex Morgan and Hope Solo had sold 60,000 tickets for two friendlies, yet their opponents never showed up, having not been paid for two months after their last pay deal expired. FFA tried to cobble together a bits-and-pieces Australian squad, yet couldn't muster enough numbers. Even the Americans agreed with the Matildas' stance, with Solo tweeting her support. A petition on Change.org was launched and had 35,000 signatures.
"The players made a decision some sort of action needed to occur to get FFA's attention and let them know we were serious and the players' expectation was much higher," says Gill, who is now the co-chief executive of PFA.
"It was a watershed moment for the players and the players to come, but women's sport in general. Off the back of that, the A-League Women's competition started to take flight and we were able to bargain that, AFLW started and cricket has always been a leader is how they treated their female players. The domestic sports in Australia really took off. I felt like the Matildas' moment created that opportunity."
It might have also created the opportunity for Australia to host a FIFA Women's World Cup. Now, Australia is the first country where its female national team players earn the same pay as men under as they share the revenue from ticket sales and broadcast deals.
Australian goalkeeper Lydia Williams was one of the strongest voices during the pay dispute in 2015, and said at the time: "Women's sport in the day and age that we are in is a relatively untapped area and you can see how the US are capitalising on all the sponsorship deals and what they are doing, so why can't we look to achieve the same thing?"
She might want to start giving advice on Lotto numbers.
Each Matildas player stands to earn $137,000 in prizemoney from FIFA for making the quarter-finals, and that will only increase if they can beat France in Brisbane on Saturday evening.
PFA co-chief executive Beau Busch says: "At the time Katrina Gorry was crowned the Asian Women's Footballer of the Year, effectively the best women's player in the region. Then she came back from the trip and went back to her part-time job in a cafe.
"When we looked at all the numbers at the time, the average age of a player who was successful in teams that had won a World Cup was 28. We were looking at our players and they were retiring before 26 because it wasn't a feasible career path. Now we're seeing players come into camp after being mothers.
"That day in Sydney, it hit home how much stress the players were under. Without that strike action I don't think we would be where we are. All of them, a number who are still in the team today, should be incredibly proud of what they've done for the sport."
Sports news, results and expert commentary. Sign up for our Sport newsletter.