The best new TV shows to stream in August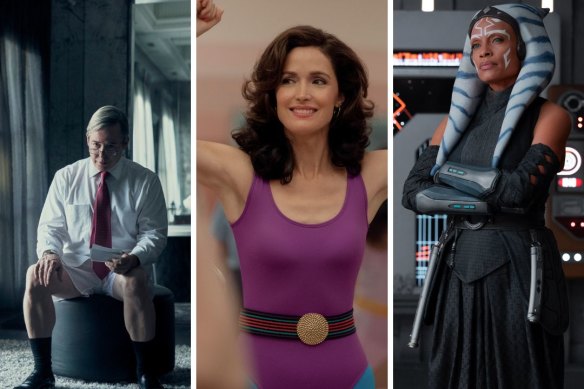 If someone is looking particularly jumpy come Wednesday afternoon my first thought currently is: "Apple TV+ subscriber".
The streaming service's airborne thriller, Hijack, is the sleeper hit of the year to date, an immaculately tense, one step ahead twist machine that I fell for when it debuted (check my review). Since then, it's been doling out a single episode every week, building to this week's finale, and fans have been jonesing for each one.
In the debate over binging a season on demand versus a weekly episode, I'm no longer binary. It depends on the show, and its genre. I really appreciate savouring each episode of The Bear on Disney+, but I was happy I had my critic's advance access to gobble up Hijack. Some shows now I'm even exploring waiting until the weekly episodes complete, then diving in to get a clearer sense of the season (that's you, Special Ops: Lioness on Paramount+).
Whatever your preference, there's a host of promising series debuting this month or returning with a fresh season. Whether it's a daffy comedy or grim procedural, I'm hopeful we can fill up your watchlist. And if you somehow exhaust August's options, please consider my recent list of hidden streaming gems. There are some outstanding shows buried in the servers of your preferred streaming service waiting to be rediscovered.
Netflix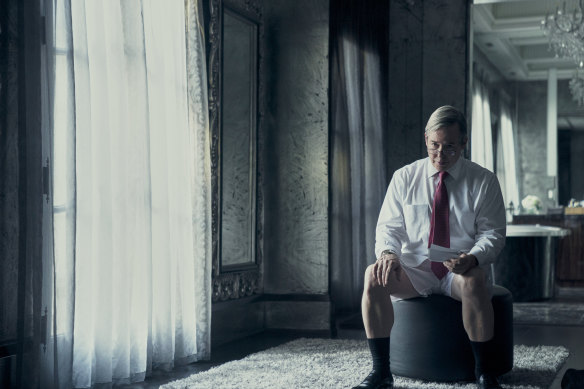 My top Netflix recommendation is Painkiller (August 10).
The scale of America's opioid crisis may be too vast for one scripted show to encapsulate: official estimates put the death toll from overdoses of powerful and addictive prescription painkillers such as OxyContin at approximately 540,000 between 1999 and 2020, with an immeasurable level of associated crimes. The Disney+ series Dopesick took a measured approach in 2021, outlining the many institutional failures, but Netflix's limited series leans satirically into the venality and greed that was masked as a medical breakthrough and a corporate triumph – there's a Wolf of Wall Street veneer to this wrongdoing. Matthew Broderick plays Richard Sackler, whose family company, Purdue Pharma, created and marketed OxyContin, with Uzo Aduba (Mrs America) as a US Attorney investigating the company. Is black humour the right prescription for a tragic public health disaster? If it hits the target, then yes.
Also on Netflix: Gal Gadot is staying in her comfort zone with Heart of Stone (August 11), an action thriller that has the Wonder Woman star playing an international spy secretly working for a private organisation dedicated to safeguard the world. In other words: no Lasso of Truth, but many guns. Gadot's operative, Rachel Stone, is trying to recover a mysterious but powerful object, and if all this sounds like Tom Cruise's Mission: Impossible series then you're on to Netflix's latest attempt to launch a run-and-gun franchise. British filmmaker Tom Harper (The Aeronauts) is tasked with leaving a better impression than The Gray Man.
July highlights: South Korean reality series Siren: Survive the Island dramatically upped the stakes for female competition, Wham! shed new light on a beloved 1980s pop duo, and Survival of the Thickest was a sassy, uncomplicated new comedy.
Binge
My top Binge recommendation is Reservation Dogs (August 4).
Three seasons feels just right for this wonderful Native American comedy, which has offered up bittersweet portraits of life in a reservation town amidst the backblocks of Oklahoma. Created by Seminole filmmaker Sterlin Harjo with an assist from perpetual Kiwi instigator Taika Waititi, Reservation Dogs broke down representation barriers on American screens across its run. Knowingly matter-of-fact about both the systemic inequality and the deep bonds of tribal heritage and community that underpin the everyday struggles of its teenage protagonists, the series is signing off as the lead quartet reach the cusp of adulthood. Episodes can veer from deadpan humour to the heartbreaking, but never quite when you expect them to, with the first two seasons wasting barely a minute. I'd be shocked if the third season didn't maintain that exacting standard.
Also on Binge: Sadly, there's no shortage of material for The Trouble with KanYe (August 9) to work with. The documentary, from award-winning British journalist and broadcaster Mobeen Azhar, sifts through the many shocking incidents that have taken the American hip-hop artist Kanye West from being a pre-eminent figure in popular music and a fashion mogul to issuing anti-Semitic slurs, consorting with white nationalists, and delivering anti-Black tropes. Instead of merely recapping the debris generated by West's pronouncements, Azhar tries to thoroughly measure the impact of West's mental health struggles and bipolar disorder upon his actions, while assessing the immense reach he still maintains.
The first season of Rap Sh!t (August 10) flew under the radar, but at eight half-hour episodes this zesty, inquisitive comedy is a quick catch-up before the needle drops on season two. Created by Issa Rae – last seen as President Barbie – the show charts the attempts of one-time Miami high school friends Shawna (Aida Osman) and Mia (KaMillion) to belatedly turn their hip-hop dreams into an actual career. Reality constantly intrudes, whether through a rapacious music industry or the creative friction between Shawna's socially conscious raps and Mia's R-rated party anthems, but their efforts are always engaging.
July highlights: Steven Soderbergh's crime thriller Full Circle proved to be an enthralling cross-section of deceit and deliverance, while football documentary Angel City captured the rise of the women's game alongside celebrity power.
Stan*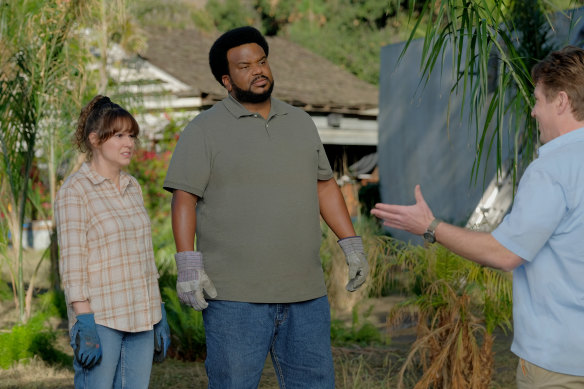 My top Stan recommendation is Killing It (August 18).
Comic actors Craig Robinson (The Office) and Australian Claudia O'Doherty (Love) are seemingly a curious pairing – he's all exasperated pessimism, she's buzzing with irrational optimism – but they were hilarious together in the first season of this absurd black comedy about life on the American margins. Whether it's inequality or the invasive pythons that come with a cash bounty, Robinson's Craig and O'Doherty's Jillian are constantly trying to avoid being squeezed to death. Co-creator Dan Goor was integral to both The Office and Brooklyn Nine-Nine, but this series has a weirder, wilder edge, especially as the inexperienced duo start messing with get rich schemes and the 1 per cent. Set in Florida (makes sense), Killing It is primed for a breakout second season.
Also on Stan: The legend of King Arthur is irresistible to storytellers, whether as fantasy epic or a clash of steel period drama. The Winter King (August 21) skews more to the latter, plotting to detail the rise of Arthur Pendragon (Iain de Caestecker), the exiled, illegitimate son of the despotic Celtic ruler, King Uther (Eddie Marsan). All the 8th-century building blocks are present: invading Saxons looking to conquer Britain, powerful priest Merlin (Nathaniel Martello-White), and a scheming Guinevere (Jordan Alexandra). The source material comes from Bernard Cornwell's Warlord Chronicles books, and the historical novelist has form: his writing previously inspired five seasons of Netflix's The Last Kingdom.
Billions (August 12) went a little haywire in recent years: what began as a sharp, shadowy game played by Manhattan's ultra-rich and powerful office-holders got a little too invested in knotty schemes, wealth porn, and dad fantasies despite the ballast provided by Damian Lewis as hedge fund titan Bobby Axelrod and Paul Giamatti as the brilliant US Attorney Chuck Rhoades. Lewis sat out the show's sixth season, but he's back for the seventh and final instalment, which has Axelrod returning from his Swiss exile to amplify the money-making and double-crosses.
July highlights: Road rage was encouraged in Twisted Metal, a freaky and fast-paced post-apocalyptic action-comedy where the cars were armed, while a pair of comedy favourites returned with new seasons of Minx and Miracle Workers.
Amazon Prime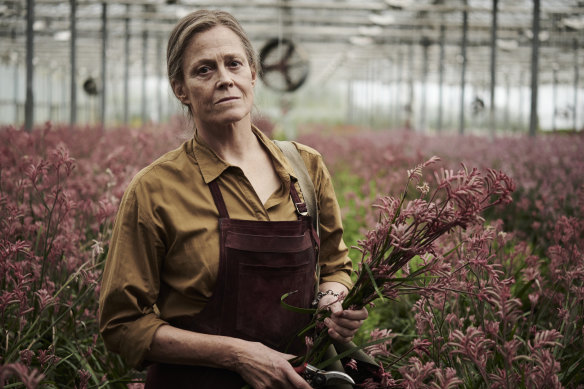 My top Amazon Prime recommendation is The Lost Flowers of Alice Hart (August 4).
Based on Holly Ringland's best-selling 2018 novel of the same name, this Australian-set limited drama is a study of trauma, frayed familial bonds, and the past's grip on the present. As a child, Alice Hart (Alyla Browne) leaves her violence-wracked home after a fiery tragedy, going to live with her grandmother, June (Sigourney Weaver), whose flower farm becomes a place of sanctuary where she learns to express herself through the native flora. But as a young woman, Alice (Alycia Debnam-Carey) has to reappraise her understanding of the past. Along with a top-tier supporting cast that includes Asher Keddie and Leah Purcell, this moody prestige drama was adapted by Sarah Lambert (Lambs of God) and directed by Glendyn Ivin (The Cry, Gallipoli). A Big Little Lies and Yellowjackets Venn diagram is most promising.
Also on Amazon Prime: The prolific American mystery novelist Harlan Coben has sold 80 million books, which is successful enough to get your name attached to the title of the adaptations. Harlan Coben's Shelter (August 18), which the author co-created, is fashioned from his 2021 novel Shelter, which launched the young adult wing of his burgeoning literary empire. The protagonist, Mickey Bolivar (Jaden Michael), is the teenage nephew of Myron Bolivar, the sports agent and investigator who Coben has featured in a dozen novels. Mickey is still in high school, but when a female classmate goes missing the family instincts kick in. The great Constance Zimmer (UnREAL), features as Mickey's aunt, Shira Bolivar.
July highlights: The Horror of Dolores Roach was an update of Sweeney Todd, complete with cannibalism and Cyndi Lauper, plus Michael Sheen and David Tennant mixed up the metaphysical with a new instalment of Good Omens.
Apple TV+
My top Apple TV+ recommendation is Physical (August 3).
It's a busy month for cult hits wrapping up with a third and final season, as this blackly comic drama starring Rose Byrne as a desperately unfulfilled San Diego housewife enters the home stretch. The early 1980s setting and the galvanising plot point of Byrne's Sheila Rubin finding a purpose in the newly pioneered field of aerobics made the show a historic curio at first glance, but its commentary on how some women struggle to justify positive change – Sheila's sharpest critic was her scathing internal monologue – and the way it examined childhood trauma and self-harm was deeply contemporary. Physical uncovered a lot in its first two seasons, with the new episodes thankfully building to a satisfying finale
Also on Apple TV+: As a cartoonist who previously studied theology, American writer Nathan W Pyle is well-placed to catalogue the existential foibles of human life. Strange Planet (August 9) is an adaptation – created by Pyle and Dan Harmon (Community) – of his popular webcomic of the same name. The setting is a planet like ours, inhabited by blobby blue creatures, where the daily absurdities and unspoken truths are spoken out loud – "gimme that mild poison," declares a creature, reaching for a drink. The individual lines are amusing, but the challenge will be to weave them into a show that works.
The story of Carlos Ghosn is a definitive example of truth being stranger than fiction. The cosmopolitan automotive executive became a rock star CEO for turning the failing Japanese automaker Nissan into a profit powerhouse, but was arrested by Japanese authorities in 2017 over allegations of misappropriating funds. While on bail in 2019, he was smuggled out of Tokyo in a giant box and fled to Lebanon, where he now lives as an international fugitive. Wanted: The Escape of Carlos Ghosn (August 25) dissects every element of his rise and fall, with the perfect finishing touch: an exclusive interview with Ghosn.
July highlights: Two very different series returned for second seasons, with the genre-jumping mystery comedy The Afterparty followed by the science-fiction epic Foundation.
Disney+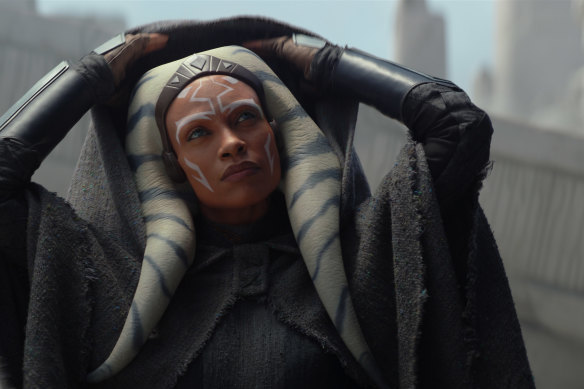 My top Disney+ recommendation is Ahsoka (August 23).
The Star Wars television shows are at the crossroads. The Mandalorian is running on the spot, Obi-Wan Kenobi was uninspiring, and Andor suggested a vital new path by refuting much of the franchise's defining mythos. It's doubtful that the latest instalment, with Rosario Dawson as the titular live-action version of the Jedi knight who apprenticed with Anakin Skywalker in the animated series Star Wars: The Clone Wars, can fix every issue, but it has some welcome elements. Dawson (Unstoppable) debuted the wary warrior in season two of The Mandalorian, and that show's creators, Jon Favreau and Dave Filoni, are guiding this spin-off, which also stars Mary Elizabeth Winstead (Birds of Prey), the late Ray Stevenson (Rome), and Lars Mikkelsen (Sherlock) as the villain, the Imperial commander Grand Admiral Thrawn. Bonus casting: David Tennant (Doctor Who) voicing a combat droid.
Also on Disney+: The return of Only Murders in the Building (August 3) is cause for celebration. One of the few shows streaming that genuinely deserves the description delightful, this farcical murder-mystery comedy reunites true crime podcasters and Manhattan neighbours Charles (Steve Martin), Mabel (Selena Gomez) and Oliver (Martin Short) for a third season of homicide clues and audio cues. The setting is a Broadway production, directed by Oliver and co-starring Charles, that has its leading man murdered on opening night. Paul Rudd plays the victim, and if you think that's a big name get, check out who they got for the role of a horrible stage actor everyone wants fired. Hello, Meryl Streep!
July highlights: The second season of The Bear found new ways to achieve riveting peaks, while a beloved character returned – in a very different setting – for the crime drama Justified: City Primeval, and the latest Great Expectations was an Olivia Colman masterclass.
Paramount+
My top Paramount+ recommendation is The Inspired Unemployed (Impractical) Jokers (August 9).
Paramount+ is backing unconventional talent. Having given an idiosyncratic modern history series to satirists The Betoota Advocate, they're now shepherding tradies turned online comics The Inspired Unemployed into an eight-part update of Candid Camera. Matt Ford and Jack Steele have built up a following in the millions via Instagram and TikTok, which they'll be looking to translate into a viewing audience for a hidden camera prank show where the extended Inspired Unemployed crew take turns putting each other in embarrassing situations with the unsuspecting public – whoever fails to carry out the discomfiting instructions the most gets "punished". The format is a sidestep from their popular online material, but on the plus side the group should experience fewer injuries than their predecessors in Jackass.
Also on Paramount+: Inspired by real events in 2016, Far North (August 29) is a Kiwi crime farce about the cavalcade of mishaps that surrounds a Tongan-Australian crime gang's attempts to link up with Chinese smugglers bringing a $500 million stash of methamphetamine to New Zealand by boat. When the criminals descend on a remote beachfront town to organise the seaborne handover, they avoid the authorities but raise the suspicions of a cranky local fisherman (Temuera Morrison) and his water aerobics instructor wife (Robyn Malcolm), who become amateur sleuths. It's the anti-Breaking Bad.
July highlights: Yellowstone's creator added a Zoe Saldana-led action thriller to his docket with the espionage thriller Special Ops: Lioness, while the British mystery No Escape charted the inexplicable disappearance of friends aboard a yacht sailing to Australia.
ABC iview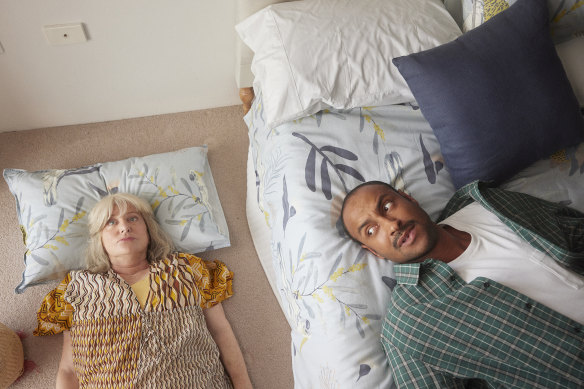 My top ABC iview recommendation is Mother and Son (August 23).
There's a school of thought that if you're going to risk rebooting a television show, then aim high. That's certainly the case with the ABC's "reimagining" of the hit Australian sitcom about the co-dependant relationship between an ageing but still wily mother, Maggie (Ruth Cracknell), and her loving adult son, Arthur (Garry McDonald), who yearns for some freedom. The new version of Mother and Son was created by comedian Matt Okine (The Other Guy), who also plays Arthur, while Denise Scott (Winners & Losers) has to fill Cracknell's Gold Logie-winning shoes. Time is on Okine's side – the original concluded almost 30 years ago, allowing for a different perspective on caring for loved ones and the value of the family home.
July highlights: History did not repeat as Gold Diggers cheerfully upended the period drama with chaotic feminist laughs, while Utopia continued to be a masterful Australian comedy.
SBS On Demand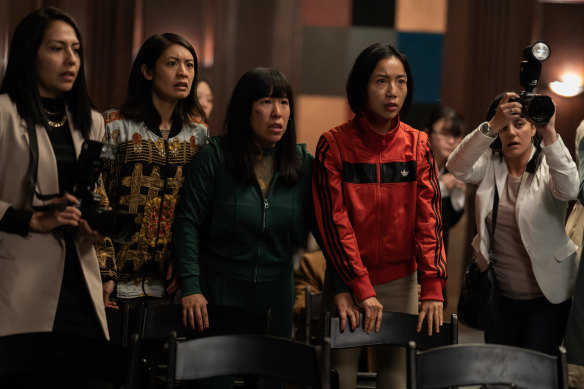 My top SBS On Demand recommendation is Creamerie (August 28).
In 2021 no-one had "dystopian sci-fi comedy from New Zealand about a world without men" on their streaming bingo card, so the first season of this subversive farce proved to be one of the year's unexpected gems. Created by Kiwi-Asian actors J.J. Fong, Perlina Lau, and Ally Xue – who were tired of the cliched range of roles they were being offered – along with director Roseanne Liang, the show was a spiky mix of character humour and political satire. The wellness-centred female society that took control once a (bloody) virus killed the male population had its own flaws, which were only exacerbated when the women discovered a fugitive male survivor (Jay Ryan). The new season picks up from a cliffhanger ending, with all six new episodes available for same-day binging.
July highlights: The true hunger games was getting through the food and travel documentary Stanley Tucci: Searching for Italy without snacking, The Movies offered a potted history of Hollywood, and the Danish classical music comedy The Orchestra hit all the right notes.
Other streamers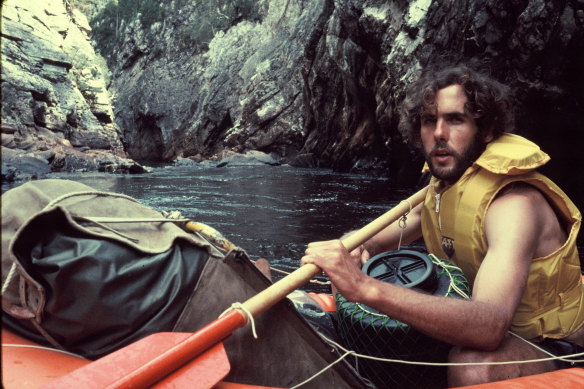 My top recommendation for the other streaming services is DocPlay's The Giants (August 28).
An independent hit in cinemas earlier this year, Laurence Billiet and Rachael Antony's documentary intertwines the life and work of former Greens leader and environmental activist Bob Brown with the ancient, towering Tasmanian trees that he's long fought to safeguard. It's a story of old and new growth, part political biography and part primer on the complexity of the natural world, with Brown as a thoughtful if modest subject offering recollections alongside fascinating archival footage.
Also: Game of Thrones star Gemma Whelan returns in BritBox's The Tower (August 29), a London-set crime procedural whose first season proved to be one of the best British post-Line of Duty police dramas. Adapted from another of Kate London's crime novels, the new season has Whelan's Metropolitan Police detective, Sarah Collins, working on a cold case that quickly becomes entangled with both a recent murder and the presence of the young constable, Lizzie Adama (Tahirah Sharif), that Collins had to track down in the first season. The theme that unifies both seasons? The insular, protect your own mindset that can lead policing into corruption.
July highlights: BritBox's Six Four was a gripping Scottish crime thriller about the pain of unsolved disappearances, while a second season of AMC+'s Dark Winds continued the story of two Navajo police officers in the 1970s.
* Nine is the owner of Stan and this masthead.