US Women's World Cup player Alex Morgan can easily rattle off the colours of the headbands worn by her teammates. She wears pink, as does Rose Lavelle. Sophia Smith likes black. Julie Ertz prefers a shade closer to Tiffany blue. Lindsey Horan wears red, mostly because Morgan doesn't.
"One of the first times I wore pink, someone said I'm trying to copy Alex Morgan," Horan says.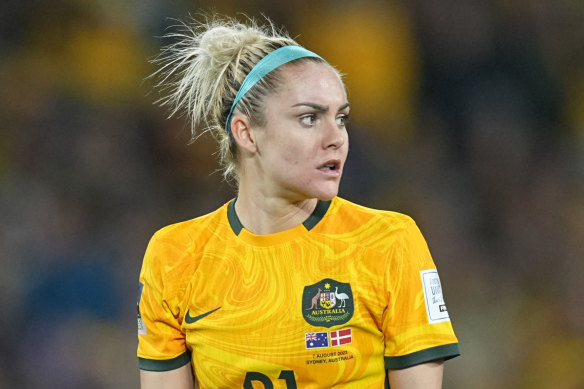 Morgan laughed. "I never knew that," she says.
From what we've seen during Matildas' games in the tournament, most of the Australian headband-wearing players favour a bright blue.
Soccer's favourite headband, though, isn't a headband at all. The sheer coloured strips keeping some of the world's best athletes' hair in place is actually what is known as pre-wrap – a thin, stretchy medical gauze intended to be wrapped around injured knees or ankles before they are taped, in part to protect the skin.
And while both men and women long ago co-opted the athletic dressing for a more prominent purpose in their hair, Morgan and other women's soccer players, including Australia's Ellie Carpenter, have turned pre-wrap into a symbol of women's sports – and soccer in particular – to accent their team kits and express individuality on the field.
"There is a kind of unique, almost strategic use of pre-wrap in women's soccer," says Rachel Allison, a sociology professor at Mississippi State who has studied how the sport has marketed itself. "Obviously, wearing the headband can be functional in terms of holding your hair back while you're playing the sport, but I think it's become far more than that."
Morgan, for example, began wearing pink pre-wrap so that her parents could pick her out in a sea of ponytails on the soccer field, and later chose the colour to honour her mother-in-law, who is a breast cancer survivor. Morgan is now even sponsored by one of the primary manufacturers of pre-wrap, Mueller Sports Medicine.
"These are forms of individual self-expression, but they're also really important to how we're marketing women's sport," Allison says.
"They become part of the storytelling that we do around who these women are, not only as players, but also people in ways that help to connect to the audience."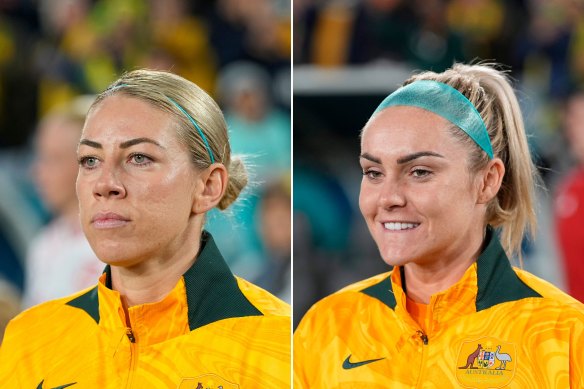 Brett Mueller, the chief executive of Mueller Sports Medicine, says the US company originally began producing pre-wrap in the 1970s for use in the NFL and NBA, but it became popular as a hair accessory for women and girls after referees said they couldn't wear hard plastic barrettes or clips because of injury risks.
Quickly, he says, his company had to expand its colour offerings from the original tan, first to popular school colours and then to a brighter, wider range – including pink.
"It's exciting that these athletes – and our [US] team is so good, too – are using our product," Mueller says, adding: "But we didn't design it for that".
Allison says that when she played college soccer at Grinnell College in Iowa, where she graduated in 2007, a couple of her teammates wore the gauzy headbands. Many more people do now, she says.
"It's not uncommon to see other people, especially girls or young women, wearing pre-wrap when they're in the stands watching," Allison says. "It's a way for them to symbolise their fandom."
There are two camps of pre-wrap headbands: those who roll it into thin, tubular strands that stand up slightly on their heads, like Alanna Kennedy, and those who spread it flat on top of their hair, like Carpenter.
And while it's most obvious in the players' hair, Morgan says the team also uses pre-wrap for its originally intended purpose: underneath their shin guards and also to tape up ankles.
"Pre-wrap is everywhere," Morgan says. "You look in the bins, and it's endless pre-wrap."
The New York Times
Make the most of your health, relationships, fitness and nutrition with our Live Well newsletter. Get it in your inbox every Monday.