Moving goalposts? The next hurdle for hopeful home buyers
Australian home buyers saving for a house deposit may need up to $100,000 more than they did four years ago to buy a median-priced house.
The amount of savings needed for a 20 per cent deposit has risen starkly in all capital cities since before the pandemic, new analysis shows, despite last year's short-lived property downturn as interest rates began to rise.
Prices boomed so much after COVID-19 hit that the subsequent downturn was not enough to reduce the deposit hurdle to below pre-pandemic levels, and prices have been recovering this year.
Meanwhile, monthly mortgage repayments have been going up and the cost of living is on the rise, hitting buyers' hip pockets and reducing their borrowing capacity.
Industry experts say skyrocketing deposits are leaving some buyers scrambling to ask family for financial help, or take advantage of government low-deposit loan schemes to avoid paying lender's mortgage insurance.
That's especially the case in Sydney, where house prices have been on the rise and are now just 3.4 per cent below their peak reached in March last year.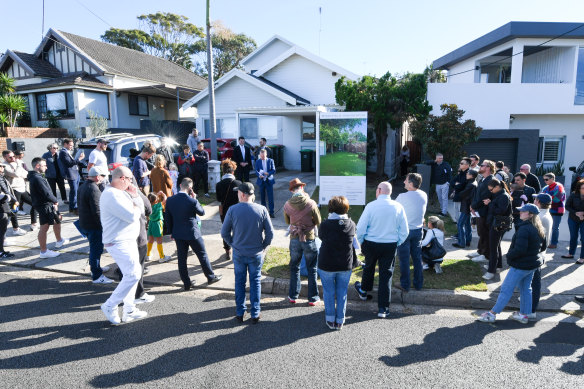 Sydney buyers now need about an extra $100,000 for a 20 per cent deposit compared to June 2019, after the median house price jumped from $1,034,820 to $1,538,017. The size of a deposit has jumped from $206,964 to $307,603.
It was a similar story in Melbourne, where the median house price is now 6.1 per cent below the peak reached in December 2021.
A 20 per cent deposit is now about $40,000 more than it was just four years ago, after Melbourne's median house price jumped from $825,834 to $1,027,996.
That has meant a deposit for a median-priced house has flown from $165,167 to $205,599.
Meanwhile, the required deposit in Brisbane has risen by more than $50,000 over the same time, despite the median house price still being 4 per cent lower than its peak in June last year. A deposit of $164,654 is now needed on a median-priced house of $823,272.
A Perth saver would need almost an extra $32,000 of deposit funds for the median-priced house at $690,468.
Westpac senior economist Matthew Hassan said higher deposits are hitting housing affordability, at the same time as more listings were coming onto the market.
This would test the mettle of buyers who would put off buying a house, or upgrading, until they could better afford to.
"The dominant aspect of the market in the next couple of years will be the return of chronic affordability issues," Hassan said. "That keeps activity at low levels and keeps the market and buyers in a holding pattern."
In Sydney, Michelle May of the eponymous buyer's agency said bridging the deposit gap was becoming harder as prices increased.
May, who works with buyers in Sydney's inner east and west, said the type of property many were able to afford was changing.
"We always used to buy predominantly houses for first home buyers, but now we're seeing more apartments … budgets have been cut as interest rates rise [because buyers can't borrow as much as they once could]," she said.
For the median Sydney apartment priced at $773,752, a 20 per cent deposit would work out to almost $155,000. An equivalent unit deposit would be more than $110,000 in Melbourne.
Buyers were using the Bank of Mum and Dad and taking advantage of first home deposit and shared equity schemes, May said.
The option of paying land tax instead of stamp duty, which had been available to first home buyers until June 30, was popular, she added.
Far more first-time buyers were looking to get into the market using this scheme, rather than the stamp duty exemptions, or concessions, on offer for homes priced up to $1 million.
"Every little bit helps," May said. "But what it also does is drive more competition, so you have more buyers vying for the same properties."
Melbourne-based mortgage broker and 40Forty Finance director Will Unkles has received more enquiries for guarantor loans, where families become responsible for paying back a mortgage if the borrower cannot.
He was also seeing not just first-time buyers, but second-time buyers, using the Bank of Mum and Dad to help cover the gap of a deposit, and also help buyers avoid the added cost of lender's mortgage insurance.
"Seventy per cent of first home buyers are getting help from their parents, and additionally I've really seen an increase in gifts from families for upgraders," Unkles said.
"Effectively, they're handing over an early inheritance, so their children can benefit, but it's also a bit selfish because they want their kids to stay close to them."