Liberal MP says robo-debt offended liberal values and royal commission was justified
Liberal MP Keith Wolahan has urged his party to learn the lessons of the robo-debt scandal, claiming the welfare scheme offended liberal values and the royal commission was justified.
In a speech in parliament on Tuesday, the Melbourne-based MP delivered arguably the strongest repudiation of the program by a Coalition figure, sharing his frank views on the controversial scheme, which a royal commission heard was a factor in the suicides of three welfare recipients who had received automated debt notices.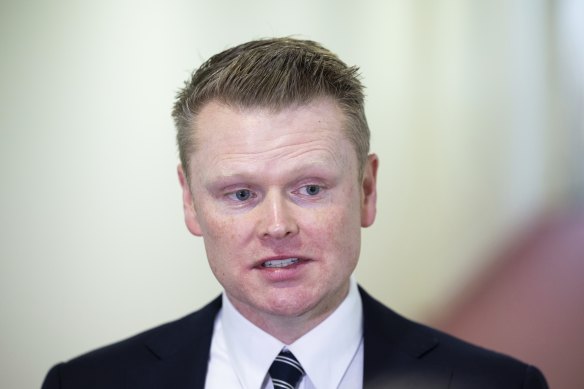 "Australians expect us as the opposition to hold the government to account, and often that means that in motions like this we come up here and we fire back, but I won't be doing that today," said Wolahan, a first-term MP.
"There are times when we have to acknowledge when things were wrong on our side and there are lessons to be learnt. There are a few reasons for that. One is that it's not honest to do otherwise. Opposition is a time to reflect on how you can do better if your party is given the honour of being in government again."
"People won't listen to you when you actually have valid criticisms if you don't look within."
Wolahan was a barrister and former special forces captain before entering parliament. He explained that the parent of a distraught robo-debt target had contacted him in the early days of the scheme and he had agreed to work free of charge.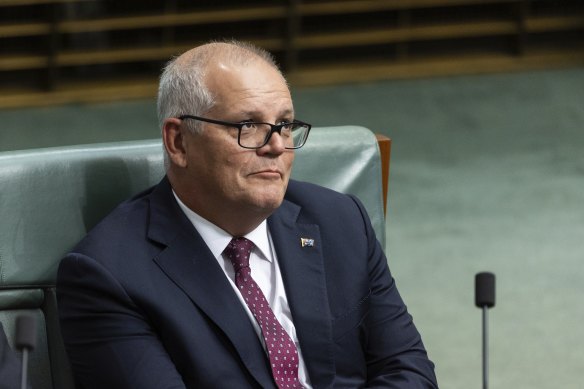 "Then I heard of others that were in a similar position," he said. "What struck me quite early on with that one example was the unfairness of it and how it was not competent. As someone who's a Liberal and believes in the sanctity of the individual, due process and the presumption of innocence, it offended all of those. It was illiberal, it reversed the onus and it hurt people."
"And it hurt people on a large scale. We now know – I didn't know at the time – that close to 500,000 people were affected ... The scale of that did warrant a royal commission."
The robo-debt scheme aimed to recover $1.7 billion in alleged welfare overpayments, using income averaging to claim overpayment then putting the onus on welfare recipients to disprove the debt.
Royal commissioner Catherine Holmes' report into the scheme found it was mishandled from conception and criticised former ministers Scott Morrison, Alan Tudge, Stuart Robert and Christian Porter, saying that even when problems came to light in early 2017, the government had doubled down and attacked recipients.
Morrison expressed "deep regret" for robo-debt's unintended consequences but accused the Albanese government of conducting a "campaign of political lynching" against him.
Echoing the statements of some former ministers and commentators who questioned Holmes' findings on the merits of the scheme, Wolahan emphasised the importance of encouraging people to get jobs and limiting welfare spending.
He cautioned against blindly following each of Holmes' recommendations and pointed out the "excessive joy" of political opponents using the report to castigate the Coalition, as Government Services Minister Bill Shorten regularly does in question time.
"But,when you look at this particular scheme, in trying to achieve some of those objectives it overreached and it wasn't properly scrutinised," Wolahan said.
"At all levels of government, we should be conscious of the feedback loops when we hear that something has gone wrong. If someone drafts legal advice that says something might be illegal, that should be properly considered and passed up and down the chain of decision-making.
"We must never tell decision-makers just what we think they want to hear; we should tell them the truth all the time."
Shorten said on Thursday that Wolahan's colleagues should read his speech.
"If you listen to people like the member for Menzies, you might just have a chance of getting back into government," Shorten said, adding that Wolahan was brave to take the stance because of the internal criticism he might attract.
Tudge wrote an opinion piece in Spectator magazine this week defending the intent of the scheme but acknowledged the debt recovery system was "unfair" and caused "distress" in its first few months.
"The royal commission was right to point this out and made sensible recommendations for the future," he said, adding: "No minister was aware of these initial flaws."
Tudge, who was minister for human services in 2016-17, argued the royal commission was a missed opportunity to "consider the problem of welfare compliance from the taxpayers' perspective".
"In the meantime, over $150 billion will be allocated based on an honesty system with no enforceable checks," he wrote.
"For $200 million – the cost of the royal commission – it should have been addressed."
Tudge continued: "It was not. However, don't expect the Albanese government to take this up (despite its now stated war on NDIS overpayments). Its objective was to use the royal commission to lynch the Coalition, as Morrison suggested.
"It fulfilled this objective".
Cut through the noise of federal politics with news, views and expert analysis from Jacqueline Maley. Subscribers can sign up to our weekly Inside Politics newsletter here.
Paul Sakkal
is a federal politics reporter for The Age and The Sydney Morning Herald.
Connect via Twitter.