Opinion
It's not just the Matildas. Why all women footballers deserve better pay
By every measure, the Matildas and the FIFA Women's World Cup has been an outrageous success; a game-changer for not just women's football but women's sport in this funny little country of ours.
Sell-out attendances at matches and heaving live sites dotted around major cities; TV ratings that outstrip State of Origin and NRL and AFL grand finals; online and social media traffic that has threatened to break the interweb and googles.
There's nothing more clichéd than evaluating the rise of women's sport by the number of men who are watching and talking about it but, still, fat old men in pubs are talking about Caitlin Foord, Hayley Raso and Ellie Carpenter - and it's a beautiful thing.
Most tellingly, my well-placed beer sources report that Colombian supporters almost drank Allianz Stadium dry when their country played Germany two weeks ago, putting England fans who had been there two nights earlier to shame.
A giant has been stirred in this country and that giant is best embodied by a 172cm, 20-year-old called Mary Fowler, whose touch and poise has been something to behold in all of Australia's matches.
With all that in mind, then, it's important to cast our minds back to the eve of the tournament when the Matildas took it upon themselves, as co-hosts, to put the issue of pay and prizemoney parity on the agenda with a social media campaign of their own — not just for them but, mostly, for other countries that don't have a collective bargaining agreement, including the Lionesses, England's national team that won Euro 2022 last year.
Australia's players were predictably slammed by some commentators as being "woke" and told to "just worry about playing", but the truly laughable remarks came from FIFA president Gianni Infantino when pressed on the issue on the eve of the opening match.
"If somebody's still not happy about something, well, I'm sorry," he said. "I'm happy with everything and I love everyone."
Thanks for that, Papa Smurf. I love everyone, too, but my patience would be sorely tested if I was getting disproportionately paid for my efforts while FIFA backstrokes in swimming pools of cash.
The issue of pay and prizemoney equity is one of sport's trickiest issues, not always well argued by either side of the debate. Comparisons are fraught with danger.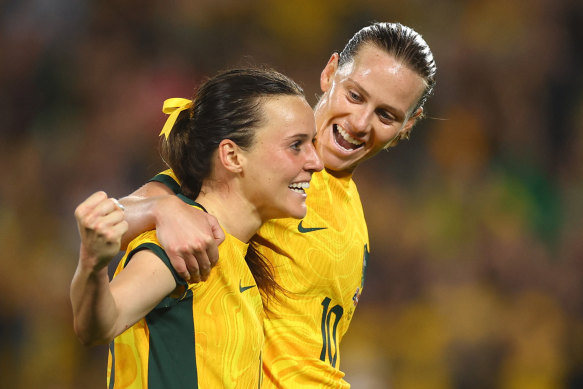 Men's sport is the forever bankable powerhouse while women's sport is the lightning every major football code is trying to capture and shove in a bottle, even if they want to pay a discounted price for the lightning and the bottle.
It's silly, though, to argue that the average audience of 3.56 million people who watched the Matildas play Denmark in the Round of 16 proves they are as popular as the Socceroos, who attracted an average audience of 1.34 million.
It proves that a lot of people watched the Matildas in prime time on a Monday night, the other in the early hours of a Monday morning. Support for one team doesn't have to come at the expense of the other.
Indeed, it will be interesting to see the figures for the Matildas' quarter-final against France played at 5pm on a Saturday when people are out and about.
Many also incorrectly assume that the Matildas are poorly paid in comparison to the Socceroos. They've been paid the same for the past four years under the current CBA.
Nevertheless, there's a yawning gap in World Cup prizemoney.
The $US440 million in prizemoney that FIFA handed out in Qatar last year dwarfs the $US110 million the women's tournament will receive this year.
Infantino has flagged the notion of parity by 2027, but it's all words. Nothing in writing. Nothing official.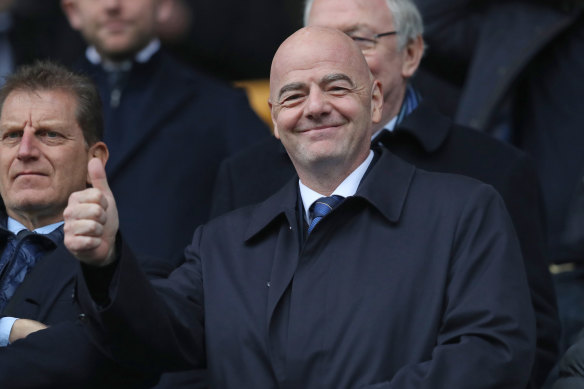 And the issue runs much deeper than what's being dolled out to the elite players.
If women's football, and indeed sport, is to flourish, it requires significant investment from FIFA, national governing bodies, broadcasters, the media and, of course, fans.
This World Cup has provided a decent look at what it can look like. Let's hope the party continues when the rest of the world goes home.
Gould keeps firing away at NRL rivals
The rugby league news cycle between the last State of Origin and the first finals match is always slow, and it's been no different this year.
There's been two major storylines, essentially: the godforsaken CBA dispute between the RLPA and the NRL and anything that comes out of Phil Gould's mouth on his various platforms for Channel Nine, publisher of this very fine masthead.
Having questioned the Broncos' defence, then claiming Penrith should win the next six premierships, then musing Latrell Mitchell goes missing in headline matches, the Bulldogs general manager of football this week made Roosters fullback James Tedesco his target, suggesting he shouldn't be the Kangaroos fullback for internationals against Samoa and New Zealand at the end of the year.
"I don't think Roosters are going to play finals football," Gould said. "I think the Test side will probably be made up of those who last longest, getting into the finals and grand finals. I think fellas like Dylan Edwards and Reece Walsh will come into play there. Maybe Kalyn Ponga if Newcastle go deep into the finals series."
Who knows what Gould's motives are when he floats these things, although some at the Roosters reckon he's trying to unsettle them. As revealed in this space earlier this year, he's had a seismic fallout with chairman Nick Politis.
I know one thing: Australian coach Mal Meninga and the selectors won't be taking selection to Gould. Tedesco will be captain and fullback.
Graham lauds Burgess' 'very high football IQ'
Well, there was some interesting rugby league news this week with Sam Burgess confirmed as the next coach of Warrington in the UK Super League.
It's a huge win for the competition and Warrington but also for Burgess.
Will be a success?
His former England teammate, James Graham, has no doubt that he will, claiming people should not be fooled by Burgess' reputation as a hard man on the field.
"His knowledge of the game is really high," Graham told me. "People think he's a big, tough inspirational player who will take you on, but he has a very high football IQ. It's not spoken about in the same depth as his other attributes that he's known for. He doesn't get enough credit for his game awareness. He'll drive standards and he's not that far removed from playing, so he can relate to the playing group. He's so ambitious, I can't see what's going to stop him."
THE QUOTE
"Life." — The Twitter post from Nigerian player Michelle Alozie of herself smiling on the ground with the foot of England's Lauren James firmly on her back wins the week.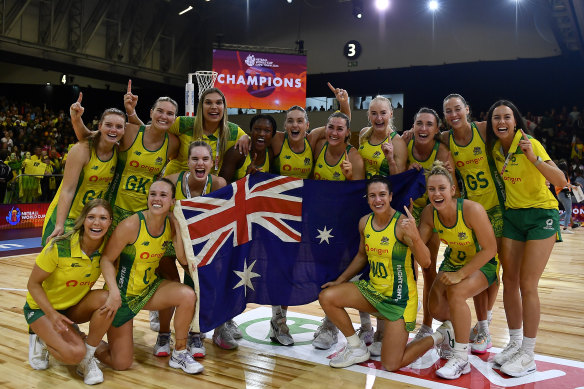 THUMBS UP
Off the court, netball can be a messy sport riven with agendas and mismanagement. On it, the Diamonds keep on trucking, winning their 12th World Cup after beating England in the final, adding to the gold medal won against Jamaica at the Commonwealth Games last year.
THUMBS DOWN
Former Opal Liz Cambage keeps telling us that she never used racist remarks against Nigerian players at a pre-Olympics scrimmage. Both Australian and Nigerian players say otherwise. She's either lying or this is the greatest conspiracy since the moon landing.
It's a big weekend for … the Roosters, Sea Eagles, Cowboys, Eels and Rabbitohs as they resemble battling horses coming down the straight as the NRL finals loom. Twelve into eight does not fit.
It's an even bigger weekend for … Sam Kerr, the Matildas striker you see on every second TV ad right now who finally gets to light up the World Cup when she shrugs off a calf injury and plays big minutes against France at Suncorp Stadium on Saturday afternoon.
Stream the NRL Premiership 2023 live and free on 9Now.
Sports news, results and expert commentary. Sign up for our Sport newsletter.