'If I stopped, I'd go crazy': Inside this pop duo's flourishing song factory
As pop duo Holy Holy, Timothy Carroll and Oscar Dawson are one of the country's most popular live music acts. But off-stage, away from the lights and crowds, they are increasingly shaping the sound of other Australian artists.
In fact, the idea of Holy Holy working as "a song factory" for other artists has evolved as they've travelled around the country, touring, playing festivals and collaborated with other musicians, Caroll said.
"And that's a lot to do with Oscar's skill and talent of building beats and rhythms."
As a songwriter and producer, Dawson counts Amy Shark, Alex Lahey, Gordi, and Didirri among the musicians he's crafted songs for, while the annual musical festival Carroll runs in Tasmania was headlined this year by Sampa The Great and Confidence Man.
A growing list of artists including Busby Marou, Tia Gostelow, Bekers Eddy, Bec Sandridge, Teen Jesus and the Jean Teasers, Timberwolf, and the Vanns are also among those making their own new music with Dawson, in his studio on Victoria's Mornington Peninsula.
Shark's 2022 single Only Wanna Be With You was co-produced by Dawson and comes with the glistening pop sheen adored by Holy Holy fans. Didirri's Raw Stuff was composed by the 39-year-old multi-instrumentalist.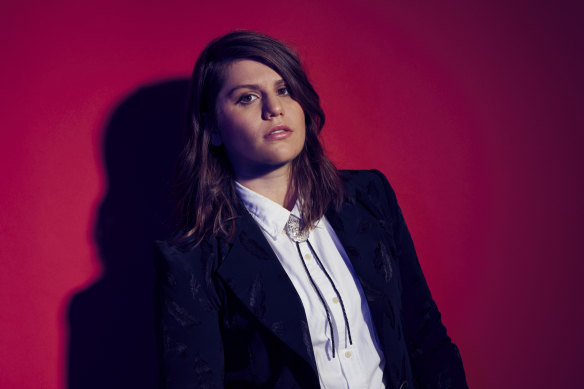 Lahey's Every Day's the Weekend from the 2017 album I Love You Like a Brother was produced by Dawson, and the two worked together again on Unspoken History and Don't Be So Hard on Yourself from Lahey's 2019 album The Best of Luck Club, among other songs.
"Oscar is one of my most trusted collaborators, confidants and teachers," Lahey said. "Over the years he's undoubtedly made me a better musician and artist ... and his impact on Australian music is already being seen, felt and heard."
Dawson said he felt a need to collaborate. "I need vocalists and lyricists to work with. I'm always collaborating. I feel like if I stopped, I'd go crazy."
"I love working with Oscar," Shark said. "He's such an intuitive collaborator because he knows exactly how to bring the best out of artists, no matter what the genre.
Shark said she's "a huge fan" of Holy Holy. "They're constantly setting the bar higher for all of us every time they put out new music."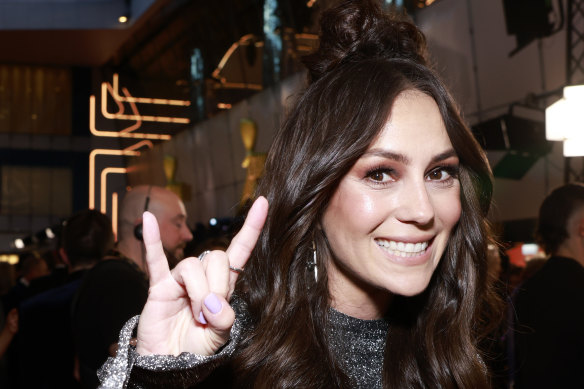 The forthcoming Holy Holy album Cellophane, due for release next month, features half-a-dozen collaborations, including Gumbaynggirr man, songwriter and rapper Tasman Keith on This Time.
Keith said it was a beautiful experience working with Carroll and Dawson.
"They're open to ideas and respect the artists they're working with and that's what makes it a really comfortable, creative space," he said.
Of that collaboration, Dawson said: "Tim fell in love with Tasman's album [2020's A Colour Undone] but we hadn't met him until we worked together.
"We did a session with him in Sydney, and he composed and recorded This Time in a day."
"It was so classy and artful, but that's Tasman," Carroll said.
Holy Holy's debut album landed in 14th spot on the ARIA album chart in 2015, and two years ago Hello My Beautiful World reached number four. Their increasingly dance-oriented music has earned them major festival appearances, including overseas at Primavera, London Calling, and The Great Escape.
Recently, they've branched out and discovered new musical moods.
After collaborating with South Sudanese Australian rapper Queen P and Sydney-based rock duo Clews on Hello My Beautiful World, Carroll and Dawson wanted to invite more Australian artists into their creative space.
"We started experimenting with a few collaborations on the last record and we both really enjoyed it," Carroll said. "It just feels very natural to us.
"There's so many parts of the music industry that are peculiar and strange ... there are things I still don't understand, and we've done five albums.
"Bringing somebody else in, and letting them have their voice is something we love doing."
Dawson said it "takes the weight off our shoulders too" to have creative input from other musicians.
"Opening the door to a collaboration with Kwame or Tasman Keith or Clews makes it more fun ... there's more joy and the songs are cooler."
Australian rapper, songwriter and record producer Kwame features on Messed Up from Cellophane, and Clews have toured with Holy Holy since before appearing on Hello My Beautiful World.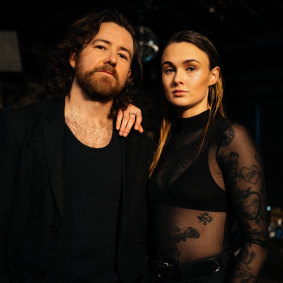 "We've toured a lot with Clews, and they sing in quite a few of our songs," Dawson said. "It really lifts the vibe [on stage] and it means I can take a breath."
"We've been able to invite up-and-coming artists to spin into our orbit and build something together," Carroll, 39, said. "Sometimes we tour with them, and our audience gets to see them and fall in love with these artists as well."
Chloe Wilson, from Launceston-based group Sumner, collaborated on new Holy Holy song Ready.
"Tim and Oscar are passionate about shining a light on as much Australian talent as they can," Wilson said.
"Tim's festival, A Festival Called Panama, is curated to niche acts we wouldn't normally get in Tasmania, and that shines through in the music they make and create with other people.
"They foster a really creative environment ... it's inspiring."
Cellophane will be available through Sony Music on September 22.
The Booklist is a weekly newsletter for book lovers from books editor Jason Steger. Get it delivered every Friday.
Martin Boulton
is a music writer and editor at The Age and The Sydney Morning Herald.
Connect via email.