Advertisement
How Sydney fell in love with hotel bars: 10 of the best to try
On a Saturday night, guests at Aster, InterContinental Sydney's top-floor bar, gaze over their cocktails at the glittering cityscape 32 floors below, as if for the first time.
"They're nearly all locals," says bar manager Jacob Ransom. But for many, this is something new. When InterContinental Sydney unveiled its $120 million makeover late last year, the bar opened to the public for the first time, revealing a humdinger of a harbour view. People flocked here, and still do.
They also pack out 1950s Vegas-themed Dean & Nancy on 22 at nearby A by Adina, and when plush boutique Hotel Morris opened in Haymarket in June, Bar Morris, its Italian-themed lobby bar, quickly drew a crowd normally native to the city's cooler small bars.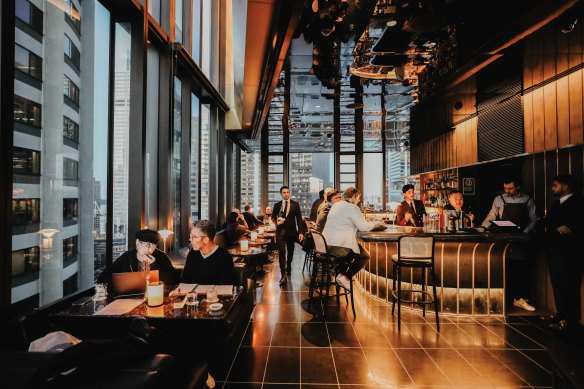 At last, Sydney has a real hotel bar scene, says Jason Williams, creative director of Proof & Co, the bar consultancy behind Aster's launch. "As recently as five years ago, there just wasn't the demand to drink in hotel bars here."
Advertisement
Maybe, he reckons, they were "just too fancy" for egalitarian Australians. More likely, they just weren't there.
Sydney has never had an American Bar, a Bemelmans, a Bar Hemingway, or anything like Singapore's Long Bar at Raffles – haunts almost more famous than their host properties.
While hotel bars in Asian cities are often "the only place to find great quality drinks", says Williams, who led Long Bar's recent reinvention, the Australian cocktail culture has thrived in small independents such as Maybe Sammy, a frequent flyer on the World's 50 Best Bars list.
Sydney hospitality group Public is behind Dean & Nancy and the poolside bar at Paddington's hippest new hotel, Oxford House, and is introducing small-bar talent to hotel outlets.
'We do great pubs, amazing restaurants, an incredible cafe culture and one of the world's best cocktail scenes. Hotel bars are the last missing piece.'

Proof & Co creative director Jason Williams
Advertisement
Public hospitality director Martin Hudak, says: "We like to think we're changing the perception of a hotel bar. Dean & Nancy on 22 is playful, not stuffy or boring. It's engaging and entertaining."
Hotel bars, adds Dean & Nancy restaurant and bar manager Stefano Filardi, have a unique allure. "A world-class hotel bar connects visitors and locals, creating this magical international setting. You feel part of something special."
Big budgets help, too, adds Williams. "Hotels can afford to invest in the details – gold foil or beautiful paper, vintage champagne by the glass, free snacks. While most independents can't afford live music every night, a hotel might have a baby grand or a three-piece in the bar."
It helps that those hotels are coming. In the past year, Sydney has welcomed Capella Sydney, Ace Hotel, Porter House Hotel, Oxford House and Hotel Morris, along with major makeovers for InterContinental Sydney, Swissôtel and Manly Pacific. A Waldorf Astoria is on its way, and Williams, who's already working on Waldorf New York's famed Peacock Alley restaurant, sees good times ahead.
Advertisement
"I always felt sure that the hotel bar scene would arrive in Australia," he says. "We do great pubs, amazing restaurants, an incredible cafe culture and one of the world's best cocktail scenes. Hotel bars are the last missing piece."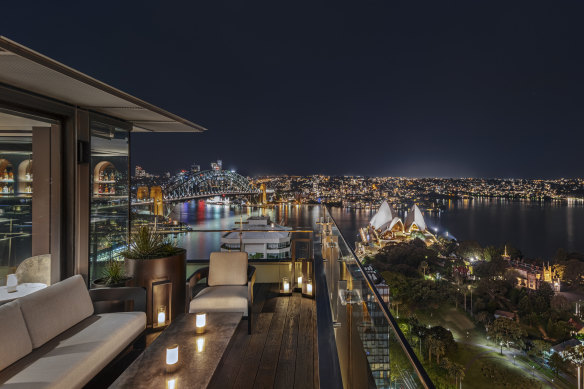 Aster
This 32nd-floor eyrie channels Lost in Translation in its sleek lines, soft lights and that glittering panorama beyond – except it's unmistakably Sydney out there. From a low-slung armchair by the floor-to-ceiling window you can pair harbour and city panoramas with an Australian-inflected classic; a musky, mellow White Truffle Negroni, or an Earl Grey Martini with McLaren Vale gin. Bars director Mattia Arnaboldi and bar manager Joseph Ransom (formerly a'Mare and Jolene's, respectively) are currently creating a new wine list with forgotten treasures from the hotel's massive cellar. Expect fun.
Level 32, InterContinental Sydney, 117 Macquarie Street, Sydney, sydney.intercontinental.com
Advertisement
Dean & Nancy on 22
Others might have let the 360-degree, 22nd-floor city panorama do all the work, but this is a bar from the Maybe Sammy team, which considers the vibes as crucial as the drinks. So the cinematic backdrop has a 1950s Vegas narrative, plum-jacketed bartenders, a grand piano and lashings of opulent black and gold. Serious drinks come with playful theatrics, in a menu that flits from India to Brazil to Egypt with smoke, bubbles and hijinks all the way.
Level 22, A by Adina Sydney, 2 Hunter Street, Sydney, deanandnancyon22.com.au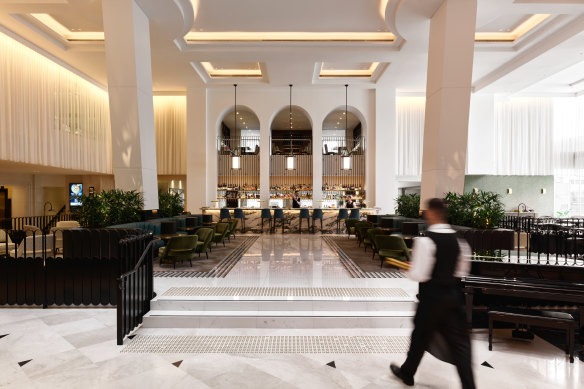 Advertisement
Arches on Market
Grand and glamorous, from its three dramatic double-height arches to the starched white jackets of the bartenders at an eight-metre green marble countertop, Arches finally gives this lovely old 1930s palazzo-style building the centrepiece it deserves. Up on the eighth-floor lobby level, it's the sort of old-world, gracious palm court where lunch might be a trio of petite sandwiches, caviar and a martini straight from the freezer.
Level 8, Swissôtel Sydney, 68 Market Street, Sydney, archesonmarket.au
McRae Bar
Advertisement
Named for the architect of the heritage-listed sandstone building housing the luxury brand's first Australian hotel, McCrae is a grand entrance to Victorian times. A floor-to-ceiling glass curio cabinet, chequerboard floor and polished glass tables quietly gleam with nostalgic glam, while an ethereal floral installation floats above the countertop. Five versions of the cobbler, a forgotten Gold Rush classic made with dry sherry, lead the drinks menu.
Capella Sydney, 24 Loftus Street, Sydney, capellahotels.com
Pool Bar
The buzz around the new design-savvy, 56-room Oxford House (OH to its friends), emanates mainly from its poolside bar, where DJs start the party every Friday and Saturday. The urban oasis blends Palm Springs and Paddington: here a Hommey blanket, there an artwork from nearby China White gallery, with big cream umbrellas and potted palms. Drinks expertise comes from award-winning Eduardo Conde at neighbour El Primo Sanchez, so you'll find top-shelf tequila at play in signatures such as OH! Margarita, with pink guava, organic agave, finger lime and pink salt.
Oxford House, 21 Oxford Street, Paddington, oxfordhouse.com.au
Advertisement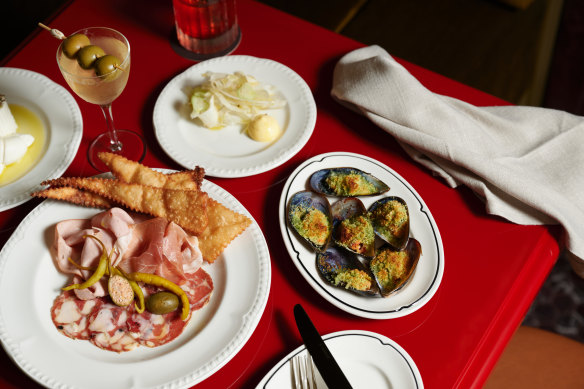 Bar Morris
A welcome splash of glam in Haymarket, this sexy red art deco lobby bar is decked out with chandeliers, velvet banquettes, peach marble and endearing touches of rakish charm; when the bill comes, you're offered a roll of the dice to score a free amaro. An Italian focus means more than 12 amari, and cocktails pair Italian and local raw materials (Archie Rose gin meets amaro and pinot grigio in a spritz, and Seven Seasons Green Ant Gin has a Sicilian olive in a martini). All-day food comes courtesy of talented young Italian chef Rosy Scatigna.
Ground level, Hotel Morris, 412 Pitt Street, Sydney, barmorris.com.au
Advertisement
Spice Trader
There's a New York state of mind behind the low-lit velvet booths, brass bar and raw brick walls, but the drinks menu at this top-floor bar roams the 19th-century trade routes, with cocktails showcasing cassia, coconut, ginger and coffee. If the $150 wild scampi caviar is beyond reach, there's complimentary popcorn seasoned with togarashi or umami salt. The new "secret menu" of $12 cocktails between 5 and 7pm on Thursdays and Fridays also helps to keep things pleasingly affordable.
Level 3A, The Porter House Hotel, 203 Castlereagh Street, Sydney, porterhousehotel.com.au
55 North
Advertisement
A $30 million transformation of the northern beaches stalwart gave Manly a grown-up, big-city hotel that still feels right at home on the beachfront. Its lobby bar embraces the ocean opposite, with outdoor seats and giant sliding glass doors – but the leather swivel stools at the long, curvy bar beckon, too. Here you can see drinks adeptly prepared with local heroes such as Manly Spirits, and the fireplace lounge calls out for a Miso and Caramel Espresso Martini made with beans from Seven Miles Coffee in nearby Brookvale.
Ground level, Manly Pacific Hotel, 55 North Steyne, Manly, manlypacific.com.au
Zephyr
At five years old, this sinuously curved harbourside rooftop bar is a grande dame by Sydney standards, but the gorgeous Darling Harbour vistas from its level 12 perch never get old. Yacht-reminiscent decor and a bar shaped like an elegant ocean-going vessel give the sense you might set sail for the French Riviera while sampling Zephyr's various tasty takes on the G&T before settling in with a $38 piping hot pot of mulled mead to soak up a winter waterside sunset.
Level 12, Hyatt Regency Sydney, 161 Sussex Street, Sydney, zephyrbarsydney.com
Advertisement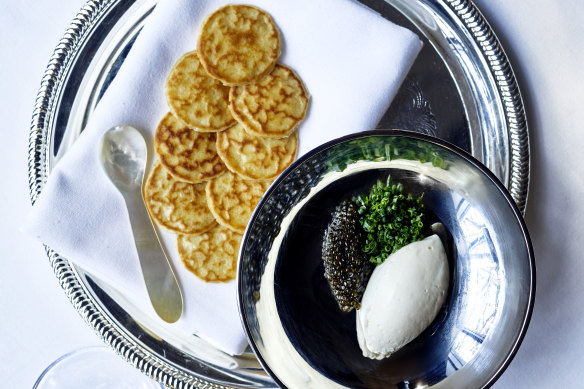 The Bar
While The Bar's original piano man Scott Finnie remains, he's tickling the ivories in a classier incarnation of this famed eastern suburbs bar. Restaurateur Maurice Terzini brought his Icebergs know-how to the relaunch last year and his influence remains in the red-carpeted, rose-walled 1920s style piano lounge. Mulled wine ($18) through these cooler months suits the cocoon-like, timeless feel.
InterContinental Double Bay, 33 Cross Street, Double Bay, doublebay.intercontinental.com
Restaurant reviews, news and the hottest openings served to your inbox.
Sign up
Advertisement
Advertisement