Advertisement
Hatted newcomer Raja is nothing like other Indian restaurants around Sydney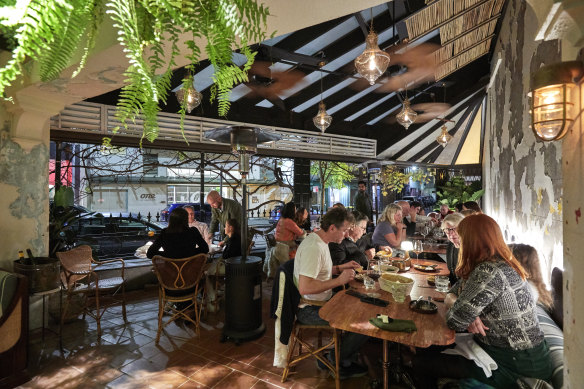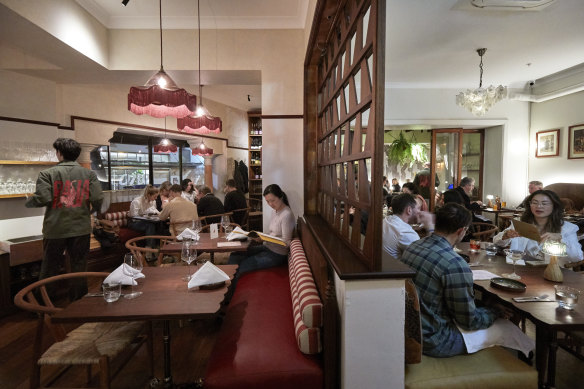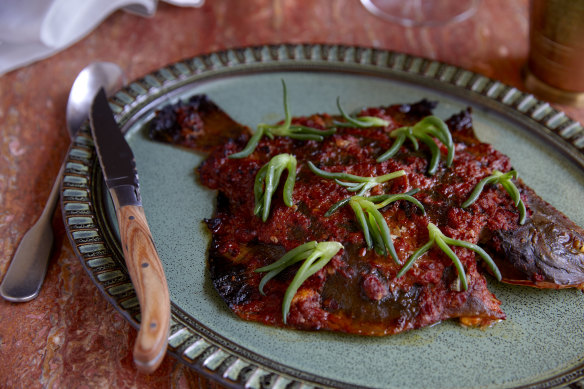 Don't miss the cocktails at Raja. There's the thump and tang of an Old Fashioned calibrated with spiced jackfruit juice; a riff on the Fog Cutter – a tiki classic – that zips and zaps with cognac, cardamom-infused vodka and grapefruit; and
a Jaipur Gin Fizz coloured right to the edges with slow-cooked rhubarb and pepperberry. Each one is $22 and I can't pick a favourite.
With its tongue-turning drinks, staff in matching khaki-green jackets (which could have come off the rack at Kenzo) and designer-kitsch dining room of dusty pink, private nooks and leopard-spot banquettes, it's fair to say that Raja is nothing like other Indian restaurants around town. You don't see oysters ($6 each) boosted by lime water and chutney every day, either.
The chic 90-seater opened on a backstreet near Kings Cross at the tail end of July. Co-owners Nick and Kirk Mathews-Bowden – who also run Middle Eastern-inspired Ezra next door – have smartly enlisted Ahana Dutt to lead the kitchen. Dutt was born and raised in Kolkata and has spent the past six years cooking at Surry Hills' three-hatted Firedoor.
Advertisement
No one else is serving Indian food at Raja's level of panache and with such youthful energy.
In short, she's the perfect chef to introduce more Sydneysiders to the tapestry of spices, genres and styles that is Indian cuisine, from the deep-red lamb curries of Kashmir, to Delhi's cumin-doused tandoori meats, to the sunny, coconut-flecked flavours found on the coast. (With all due respect to a good yellow dhal and naan, so much Indian food in Australia is derived from sauce-based Punjabi dishes.)
Diners who know their shukto from their samosas will be pleased to find a few rarities, such as oyster mushroom-loaded galho ($13), a soupy dhal-adjacent rice dish from the country's north-east. For a mild and soothing time, order it as a side with charred and quartered spatchcock ($55) perched on a thick puddle of nutty, sunset-orange makhni sauce. It's the closest thing to butter chicken you'll find here.
If you want a supercharged punch of tangy-sour, however, build your meal around the whole flounder ($62). The delicate, precision-cooked fish is slingshotted into orbit by a Goan-style sauce featuring chillies, tomato, ginger and plenty of tamarind. A scattering of beach-succulent karkalla adds briny freshness to create a properly unique and delicious dish.
Advertisement
You can also have a swell time with just snacks and those cocktails. Creamy stracciatella swaddles fried pillows of kachori bread ($8 each) sharpened with an achaar pickle of sunrise lime, the kumquat's hybrid cousin.
Goat riblets are sourced from the Gourmet Goat Lady near Dubbo, roasted to the point of submission and covered in a salsa verde-like "hara bhara" sauce of coriander, mint and green chillies ($23). Nice.
Crumbed "vegetable chop" croquettes ($12 each) are based on a Bengali street food and filled with a grainy, tasty mix of beetroot, carrot, coconut and peanuts.
Albacore tuna is piled on taro-leaf pinwheels fried with chickpea flour and seasoned with a "gunpowder" spice mix (milagai podi) which, disappointingly, is more quiet buzz than explosive bang. (More than once, it feels as if Dutt is neutering her punches for the benefit of locals less keen on uncompromising spice and heat than the rest of us.)
Meanwhile, sommelier Ella Stening has written a wine list with tasting notes that are actually fun. Lark Hill's 2022 Pinot Noir ($130) from Lake George is "light on its feet, like a songbird", for instance, and Amrit's 2021 Pinot Gris ($90) from the Mornington Peninsula is sold as a "hedonistic tonic". Extended skin contact means the pinot gris has enough savoury depth to pair with cumin-fragrant masala clams ($33), which we hoover up with two spongy dosas accompanied by bone marrow ($12) and a spoon.
Advertisement
I must also mention the sweet and golden jilipi ($21), a dense coil of fried ricotta in a pool of pistachio-flavoured sabayon custard. Terrific with another jackfruit Old Fashioned.
Oh, and there's a mud crab loaded with butter, garlic and black pepper. It sounds like the most satisfying way to get messy this side of Darlinghurst Road (designer bibs are provided), but the $120 price tag is a bit over-budget. Next time.
I'm not sure if Dutt is the first Sydney chef to heighten Indian cuisine with native Australian ingredients – there could be a restaurant in Harris Park doing unspeakable things with paneer and quandongs – but I will go on record to say that no one else is serving Indian food at Raja's level of panache and with such youthful energy. I suspect that even bigger, bolder flavours are coming.
The low-down
Vibe: Next-generation fun dining
Go-to dish: Whole flounder ambot tik ($62)
Drinks: Party-starting cocktails and a joyful, mid-sized wine list championing ethical producers
Cost: About $180 for two, excluding drinks
This review was originally published in Good Weekend magazine
Restaurant reviews, news and the hottest openings served to your inbox.
Sign up

Callan Boys is editor of SMH Good Food Guide, restaurant critic for Good Weekend and Good Food writer.
Advertisement
Advertisement