Growing up, Clare Hunt idolised France's captain. Now she has to stop her
Clare Hunt does not have to pore over tapes of old games to understand the threat posed by French captain Wendie Renard. She just has to close her eyes and remember.
Growing up in the NSW bush with dreams of gracing the World Cup stage, she watched Renard religiously. The 32-year-old centre-back has been a cornerstone of one of the most dominant teams the sport has ever seen, Olympique Lyonnais, for well over a decade.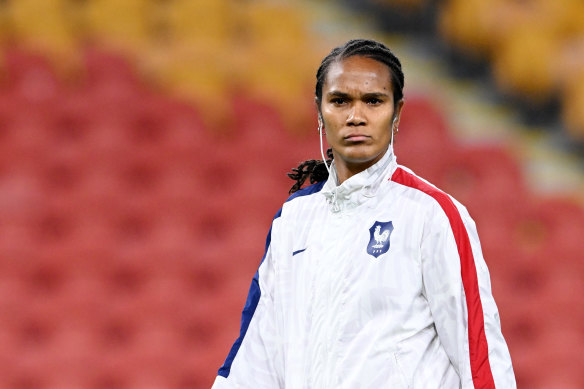 With Lyon, Renard has won the French league title 15 times, the UEFA Champions League eight times, and has been named in FIFPro's World XI on seven occasions. She is an icon of women's football, a rare one-club player, the heartbeat of Les Bleues, a passionate firebrand who somehow also stays cool, calm and collected at all times - and Hunt wanted nothing more than to be just like her.
"For me personally, Wendie Renard was a role model," she said. "I saw her composure at a young age and wanted to emulate that in some way. I feel like I know the way that Wendie plays, because I used to watch her as a kid.
"She's an amazing athlete, centre-back, leader. I think she's exceptionally good on the ball. She's a very good defender in terms of her positioning. In terms of how to deal with that, for us, we've just got to play to our strengths and we recognise that she is going to be difficult to get around."
There is more than a bit of Renard in the way Hunt goes about her football, but the challenge before her on Saturday night is to humble her hero and stop her from claiming the one thing that has always eluded her - a major trophy with France, her beloved national team.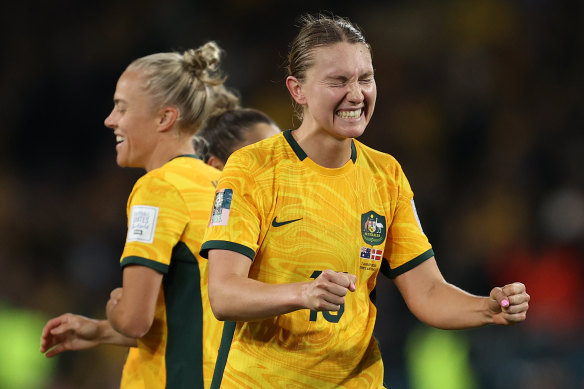 Renard was the ringleader of a player revolt that led to the sacking of coach Corinne Diacre earlier this year, alleging her methods were holding them back from success at the highest level, and ruling herself out of selection until there was a change – which there was, with the appointment of Herve Renard (no relation).
"I love France more than anything, I am not perfect, far from it, but I can no longer support the current system," she wrote on social media. "My face may hide the pain, but my heart is suffering … and I don't want to suffer any more."
Renard is a three-way danger for Australia – not only one of the world's best defenders, but also a tempo-setter from the back with her passing range and vision, and a menace at corners and free kicks, as she demonstrated once again with the winning goal in France's thrilling 2-1 group stage win over Brazil.
"She always shows up, and that's why she's the captain of the team," French midfielder Kenza Dali, the team's first-choice set piece taker, said afterwards.
"When you have someone in your team like this – I'm taking free kicks, and it's my responsibility, because I know if I do the right things, she's going to score. If we're not scoring, that's [on] me, because all the time you put a good ball in, she's coming. She's just the best at it."
The difficult task of keeping her in check will fall to Hunt and her central defensive partner, Alanna Kennedy, in the quarter-final at Suncorp Stadium.
"It's going to have to be someone's job, isn't it?" Hunt laughed. "Obviously, her height is such an advantage on set pieces, but I think we will just continue to do what we've been doing on our set piece. I think we've defended set pieces exceptionally well in three of the four games that we've played. We're looking to nullify her as a strength up there on set pieces."
Les Bleues are, like the Matildas, a team which prefers to play in transition. They have been cross-heavy at this World Cup – and Hunt is ready for a barrage from wide areas, which she believes will play into Australia's hands.
"If they're willing to play outside and put some crosses in, we know that we have two of the best one-v-one defenders out wide in Ellie [Carpenter] and Steph [Catley]," she said.
"We also have girls who have that capacity as well who are on the bench, so we know that we have depth in that area – and we know that we can defend those crosses centrally with myself and Alanna with our aerial presence. We're feeling comfortable in that sense."
Hunt's other role model is Clare Polkinghorne, who she played next to in her first five caps for the Matildas, but is now keeping out of the team. There is no friction between them; the veteran has happily passed the torch to her successor, and is cheering her on from the bench.
"Polks is one of the most beautiful people you'll ever meet," she said.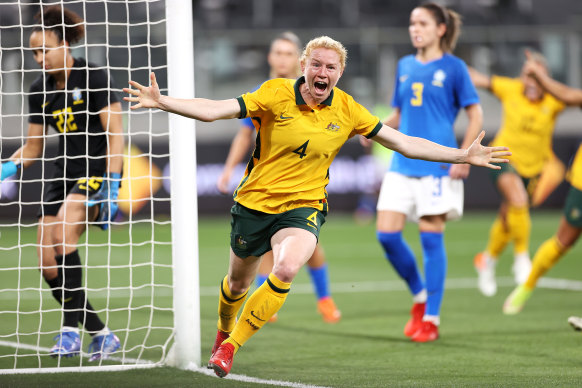 "She gives so much time, she makes you feel so comfortable – and again, as a youngster, I would look up to Polks. She was an extremely composed, great ball-playing centre-back who is just absolutely strong in all challenges she went into.
"I remember when I was younger I wanted to emulate Polks, and to be here playing alongside her for the start of my international career has been nothing but special. She has supported me as a centre-back and as a friend. I definitely appreciate her support on this journey."