Opinion
Gossiping is an activity we can all enjoy for free – and it's good for us
"If you haven't got anything nice to say about anyone, come and sit here by me." So read Alice Roosevelt's favourite embroidered cushion.
And I agree. Life without gossip would be as scintillating as Peter Dutton in a posing pouch. And, unlike skiing, skydiving and other hobbies, gossiping is a fun recreational activity we can all enjoy for free. It's also good for your health, as socialising lowers blood pressure and bonding boosts the release of endorphins. In short, a bitch in time saves nine.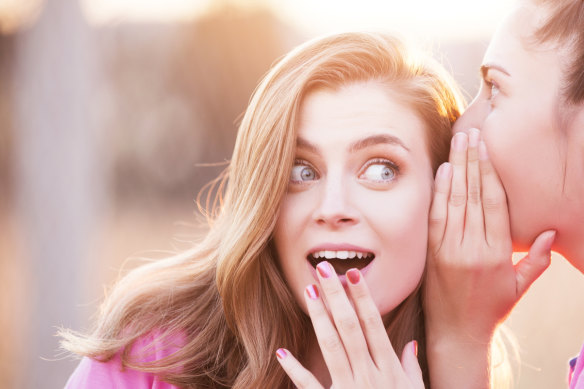 Bitching is always derided as a female foible. The general perception is that a "bitch" is a female dog – and vice versa. But in truth, I only have one female friend who needs to go to the vet to get her claws done. I find it's my male friends who like to put the verbal boot in. And a study by Ariel University in Israel backs me up. Shhh! Don't tell anyone but … apparently men gossip just as much as women and, whisper it quietly, are much more bitchy. Yep, the gossip about bitchy gossip is that it's actually a predominantly male trait.
The research, published in the Journal of Gender Studies, found that women and men engage in the same amount of gossiping activity with only one statistically significant difference: women's gossip is encoded with more positivity.
Yep, apparently, blokes are much more likely than their female colleagues to gripe about workmates. Researchers quizzed more than 2200 people about their gossiping habits and found that males and females are equally likely to share office tittle-tattle but, in general, while females tend to talk supportively about colleagues, the male of the species prefers to run rivals down. Psychologists maintain that blokes are hard-wired to do this in order to boost their own confidence.
This confirms my view that women are each other's human wonderbras: uplifting, supportive and making each other look bigger and better.
On a girls' night, we women tend to strip down to our emotional underwear in a psychological striptease which ultimately reveals all.
On a girls' night out, we women tend to strip down to our emotional underwear in a psychological striptease which ultimately reveals all. But during these heart-to-hearts, we also generally laugh until our lips fall off. If I didn't have the cathartic camaraderie afforded by female friendship, I'd be sobbing in a psychiatric unit, braiding my hair.
Yet, as usual, it is us gals who get the bad rap as "gossipy fish wives". The sexism is sewn into our psyche. While women "nag", men have "constructive criticism". An ambitious male is a "born leader", while his female equivalent is a "ball-breaker". And when men "bitch", it's called "networking". Mind you, if men are going to be aggressive, I'd much rather they shoot from the lip than launch an Exocet missile.
Still, be warned. Never cross a woman because we can occasionally make Attila the Hun look like a Teletubby. Our weapon of choice? The backhanded compliment.
"I wish men would appreciate me for my brains, instead of my beauty," a British female literary rival once purred to me. "If only I could make myself less attractive." She then looked me up and down and sighed, "So tell me, Kathy. How do you do it?"
Another Navratilova of the backhanded compliment was Joan Crawford. "I simply adore your dress … did you make it yourself?" was just one of her catty remarks to Ingrid Bergman. Bette Davis' quip about a female adversary also rates high on the bitch-ometer: "She's the original good time … who has been had by all." Turning the tables, Tallulah Bankhead definitely put the Bette into bête noire with this wisecrack about Ms Davis: "When I get hold of her, I'll tear out every hair of her moustache."
I don't repeat gossip, so listen carefully the first time … Your next confab should be a good gossipy bitch about the fact that it is blokes who are the bitchiest gossips. And if a man is present, make sure you say it to his face – both of them. (She says bitchily!)
Make the most of your health, relationships, fitness and nutrition with our Live Well newsletter. Get it in your inbox every Monday.