Crazy, courageous or just essential change: Deciphering the shock World Cup squad of Eddie Jones
There's rolling the dice as a coach. And then there's re-mortgaging your house, selling everything in the shed and taking all your cash to the casino for a one-off punt on red or black.
See Eddie Jones' squad for the Rugby World Cup.
That's the 2023 Rugby World Cup, to be clear, because in naming the most inexperienced Wallabies squad to ever go to rugby's showpiece in the professional era, we assume one of Jones' eyes must have been on the 2025 Lions tour and 2027 Rugby World Cup as well.
And if it wasn't, well, just chuck Eddie's motivations on the pile of things to be confused to about.
It was that kind of day on Thursday, when news of Jones' shock-a-palooza World Cup squad began to filter through, and was then confirmed in the official squad release. As shocked messages flew around rugby circles, the shrugging emoji got a heavy workout.
Normally, the unveiling of a Rugby World Cup squad has a handful of interesting hooks amid a sea of predictability: unlucky players squeezed out, an inexperienced bolter or two and, every now and then, a late change of captain.
Jones' squad contained all that, but in such volume the predictable picks were the minority handful.
Gone was a veteran class including Michael Hooper, Quade Cooper and Jed Holloway, and beyond that, a sizeable percentage of the players who were part of Wallabies teams from 2020 through to 2022. What was left was a new breed, and a very raw one at that.
The numbers tell a startling story.
For a tournament where coaches devote preceding years pumping experience into players so they'll roll into the tournament with 50 caps and be nearer to age 30 than 20, Jones blew up the orthodoxy and went with rookies and greenhorns all over the list.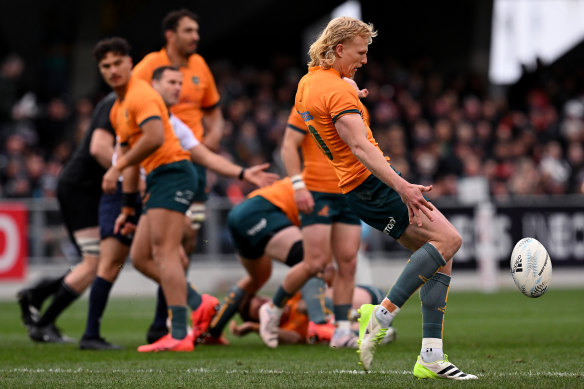 Of the 33 members of the 2023 squad, 25 will attend their first Rugby World Cup and to put that in context, South Africa have 21 players going to a second World Cup, and nine going to a third.
In six squads from 2003 to 2019, the Wallabies had only named 14 players with five caps or fewer in total. In 2023, there will be 15 in the one squad.
Even with James Slipper's 131 caps skewing the figure, the average Test cap count for the Wallabies at the 2023 Rugby World Cup will be 19.5 caps per man. It is less than half the Wallabies' average Test count of 46 caps in 2019. There are as many uncapped players (three) in the Wallabies as there players with 50 Tests caps or more.
Go on, you say? The Wallabies average age is 25.8 and there are only four players over 30. In going all the way to 2015 final, the Wallabies had 10 players in a 31-man squad aged 30 or older.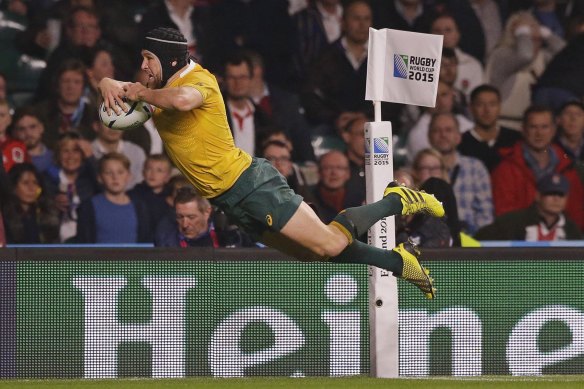 Why does that any of that stuff matter? Experience counts at Rugby World Cups, where winning teams have an average age of 27-28 and squads that average over 40 caps per man.
The averages of the recently announced England, New Zealand and Argentina squads? 27-28 years old and over 40 caps per man.
So why has Jones so drastically turfed out the old and gone with the new?
There is the obvious school of thought that Jones - a notorious World Cup planner - has become the first coach to start building a team for the next World Cup while still at the current World Cup. And with the British and Irish Lions tour in 2025 around the corner too, many will interpret Jones' squad as the coach having written off this tournament in the pursuit of success in major events in the next cycle. This will be invaluable experience for the future, kind of areas.
But Jones is a purebred competitor and it's hard to imagine the veteran coach entertaining any white-flaggery. Indeed, buoyed by the near-miss in Dunedin, Jones will back the same team (only Cooper missed the squad) and bank on them continuing to trend up and bagging wins.
Those who know Jones say his scorched-earth squad is a calculated gamble. Jones has not hidden his disquiet at Australian rugby having become a place where teams and players have been infected with chronic losing. The Wallabies have won six of their last 21 Tests, and Australian Super Rugby sides have a winning percentage of 40 per cent since 2016.
"There's been a long period now where they've been unsuccessful and that almost becomes the norm so we're having to change the mindset, we're having to change training habits, we're having to change the way the players think about the game," Jones said recently.
In the end Jones decided he had to change the people, too, and he has punted on creating a new Wallabies culture with malleable new players. And perhaps a new start was always going to be required.
But that is a process usually saved for the year after a World Cup. Ditching years of work (a penny for Dave Rennie's thoughts) and rebuilding during a World Cup is a high-stakes gamble. Setting aside their World Cup inexperience, even one decent team of 23 isn't nearly enough to make it through the pool stages in tournament rugby, let alone deep into the finals.
And that's where Jones' rookie picks in the lower half of the squad get more and more curious.
Max Jorgensen was always a project player for Jones, and it's understood he kept in contact with the teenager throughout his injury, telling him a spot would be open if he got fit.
But he is just one of a number who are not only Test rookies, but they haven't even spent much recent time in the Wallabies environment.
In trying to start afresh, right across the squad and deep down the list, Jones has given himself no safety net of experience. He has precious few players who have spent years in gold jerseys, in the unforgiving arena of Test football.
And maybe that's the whole point. But it's a hell of a punt.