Christian O'Connell took a massive risk when he quit a No.1 radio show
Five years ago he turned his back on the UK's top radio show, uprooted his family and moved to Australia to start from scratch. Somehow, eventually, it worked.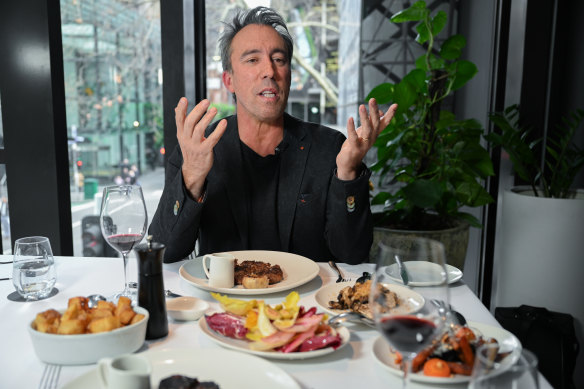 For two-and-a-half hours, Christian O'Connell talks with remarkable openness about his working-class childhood in England, his marriage, the breakdown that precipitated his move to Australia in 2018, the difficulties that followed, and his eventual – and so far unwavering – rise to dominance as the FM breakfast radio king of Melbourne, with ambitions to take a tilt at Sydney.
And then, when I turn my recording device off, he really opens up.
Over a second bottle of wine and another two hours, he reveals much more about what makes him tick. What is said then will remain between us, but this much I can reveal: Christian O'Connell is seriously driven to connect with people, and talk is the medium through which he does so.
"When I started out in radio, I was obsessed with being the funniest guy on the dial," he says. "It wasn't until later that cracks started to come through, when I became a dad and I found myself increasingly talking about stuff that was a bit more heartfelt, a bit more honest, not just chasing a punch line. And that was revelatory.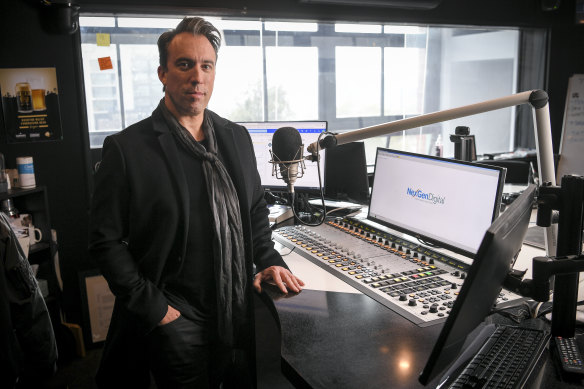 "The more I honoured that and told stories that weren't about being funny, [the more] I found I was funnier. Because when we tell stories that are true and real, the jokes are richer, because they're about life. My story is somebody else's, exactly the same."
It is in the nature of the FM radio host that the personal life becomes professional fodder. But for the 50-year-old O'Connell, who has hosted the music-and-laughs breakfast offering on Gold FM 104.1 since late 2018 (and has been working in the medium for almost 25 years), there are limits.
"Anything that would make my wife or kids, or anyone, feel uncomfortable [I won't do], because they've got real lives, they're not just props."
When he was younger, he says, he wasn't so discrete. "I was just like a rocket thruster sucking everything up. You upset people, and you realise actually that's a lack of integrity and boundaries. There's enough material that you shouldn't ever give away your integrity like that."
Nonetheless, he adds with a laugh, "sometimes after an argument with my wife she'll go, 'I don't mind if you use that'. She knows what pays the mortgage."
We're dining on the outside deck of Botswana Butchery on Flinders Lane, and tucking into a couple of delicious slabs of steak from a list bulging with choices of meat – "too many choices", O'Connell observes. He barely touches the sides he has urged me to order – goose-fat potatoes, heirloom carrots, a citrus and bitter-leaf salad, some exotic mushrooms – but the red is going down swimmingly.
On August 21, he notches up his 1000th show since arriving in Melbourne as the most-heralded unknown commodity in history, with his face plastered on billboards all across town for what felt like an eternity.
The first eight months or so were dismal as listeners resisted the Pommy git suddenly plonked in their midst. But for the last 25 ratings surveys, O'Connell has had the No.1 breakfast show on the FM dial in Melbourne, with an hour-long highlights package going out nightly to 30 other markets around the country, including all the capital cities. If he has his druthers, he'll also be broadcasting live into Sydney before too long.
All of which adds up to what he calls "the right level of fame" – the sort that might occasionally get you a better seat in a restaurant like this one, though it won't swing you Taylor Swift tickets (he had to hit refresh online, and pay for them, just like everybody else).
"It's not paparazzi fame," he says. "It's not in my face, it's not going to ruin my life. There's no downside to it."
You might be forgiven for thinking O'Connell was living a purely charmed existence. But it was a breakdown that brought him to Australia, and another more recent crisis that has brought him to his latest turning point – realising that he might have another calling in life after all.
He'd been doing radio since his mid-20s in Britain, starting on an in-house hospital station, just like the one Alan Partridge worked on ("he's a warning for us all," O'Connell says of Steve Coogan's smarmy radio announcer alter-ego). He'd won a swag of awards, had the No.1 show in the country with 2.5 million listeners a day, he'd been on TV, done stand-up, and had written a couple of books. And yet, by 2016, none of it could fill the gaping hole he felt inside.
I didn't like who I was becoming. I felt I was going to sleep in my own life.
"I found that when I got into my 40s, shit got real. I'd worked very hard building up the life I thought would make me happy, feel safe, and like, 'hey, Mum and Dad, look at me now; I've got the nice house, two daughters, great career'. But I found actually I was grabby with it, it was making me feel scared at night, scared of losing it. And the things I thought would bring me joy and safety did the opposite.
"I didn't like who I was becoming. I felt I was going to sleep in my own life. It's a horrible feeling."
The culmination of this self-doubt was a wave of panic attacks that struck him any time he walked into the studio, and left him heaving into a bin. "It felt very cruel because radio was where I came alive," he says. "I loved it, and I was very good at it, and I was rewarded for it. So suddenly it felt like, 'if I can't do radio, who am I?'"
It was an awful period for him, but it was the spur to change that he needed.
His wife Sarah had always talked about wanting to live in Australia, and by chance he had built a connection with Andy Lee and Hamish Blake. After a prolonged round of counselling helped him realise he was stuck in his life, a move across the other side of the world, where he would have to start from scratch, seemed the perfect solution.
"We get stuck in our lives, and we hit these stumbling blocks, and we're terrified or think something bad is happening, but often it's a chance for something new," he says, bringing the hard-won fruits of all that therapy to the table. "Our lives are in constant flux and change – you're either in the painful breakup, messy middle, or the exciting and unknown new. That's what life is, it's tension, but we're not very good at knowing how to hold that."
O'Connell wrote about this in his 2021 memoir No One Listens to Your Dad's Show. But he didn't want to.
"I never told anyone what really happened, and I wasn't going to put it in the book. I was just going to write a funny fish-out-of-water kind of story."
As it happens, the few chapters at the start of his book where he addresses his breakdown are all anyone ever wants to talk about.
"I got so irritated. 'What about all these other wonderful funny anecdotes in it?' And then I realised what was happening is that I started having these conversations with people about struggle, overcoming it, what did I learn, how it can change your life, and how it's not a breaking down it's a breaking apart. And I realised I was really enjoying having these conversations. It went from a place of shame to connection, and I loved it. It changed my life."
For his 50th birthday this year, O'Connell went to Ireland on a walking tour led by the poet David Whyte. "There's something that happens on a walk, you start to make sense and undo stuff. It felt like I was walking back on my life in some way," he says.
There was plenty of drinking too – "all the best enlightenment happens after a couple of pints of Guinness" – and, of course, endless talking.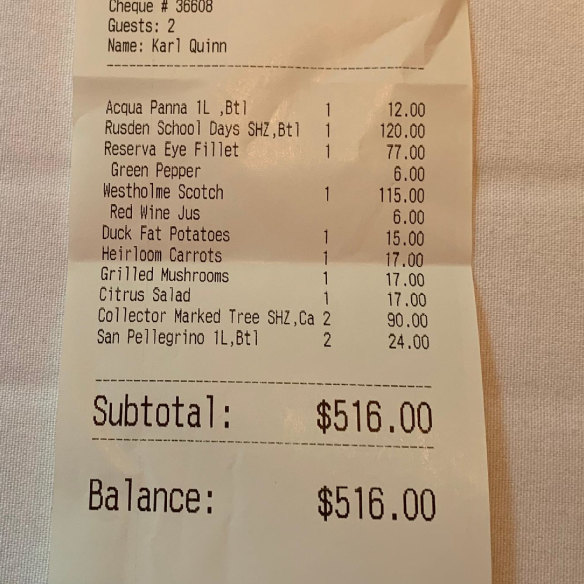 "There's a lovely thing about meeting strangers when you know you're going to leave each other's company in six or seven days' time," he says. "You can have these really intimate, honest conversations. You've got no backstory, you don't care about them judging you. So I had this really amazing, profound week out there. It was one of the best things I've done in my life, actually."
He'd gone to Ireland because "I was scared I was lost in my life again". The exchanges he had there made him feel he might find himself by sharing what he had been through with other people who were feeling the same way.
"I won't use the word 'coach' because I hate it," he says. "But whatever that was, I'd like a bit more of it in my life."
Two days after he got home, he enrolled in a course in transformational coaching. Next month he's doing another, and some time soon, he will start offering one-on-one sessions "if anyone's interested".
But don't imagine for a second that means he's done with his day job. "Five years isn't that long to be on the radio here," he says. "I'm building. It's evolving. It's growing.
"I don't think the sun is setting, and I know enough about me that I'll know when that is. I don't think it's for a while yet."
If he has ambitions to be No.1 in Sydney, maybe even nationally, he's not letting on.
"Ratings go up and down, but actually, it means nothing to the audience. And when I get up in the morning, it means nothing to me.
"The show's not always going to be No. 1," he adds. "As long as I'm still working on what I do, and evolving it and keeping it fresh every day for myself and investing in my relationships, that's all I can do. I'd go mad otherwise."
Contact the author at kquinn@theage.com.au, follow him on Facebook at karlquinnjournalist and on Twitter @karlkwin, and read more of his work here.
Find out the next TV, streaming series and movies to add to your must-sees. Get The Watchlist delivered every Thursday.