Updated
first published at
John Van de Putte says he can't hold hate in his heart for Tyrell Edwards, the teenager whose driving at almost twice the speed limit caused the death of his daughter Lily and four others in a horror crash south-west of Sydney.
However, speaking outside Picton Local Court, Van de Putte stressed "actions have consequences".
Edwards, 19, was on Thursday taken into custody awaiting his inevitable jail sentence for the crimes which each carry a maximum penalty of 14 years behind bars.
"Once you get your licence, you're going to be treated like an adult. Mummy and Daddy ain't gonna help you," Van de Putte said on Thursday.
"I don't hate him, I can't have that in my heart, but he needs to pay for the consequences that he's done to the community and to the families."
Those left behind never got to see their children become adults, Van de Putte said, and the tragedy is something they will never get over.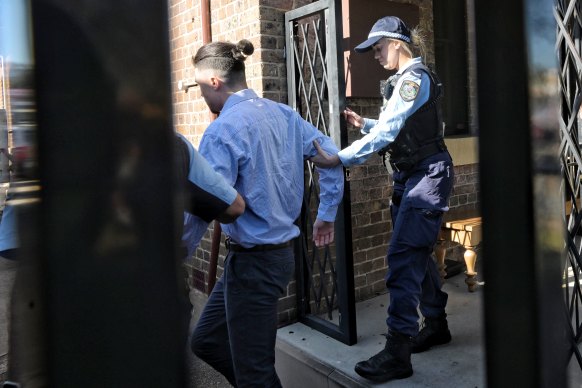 "There are a lot of sad stories."
Edwards arrived at court surrounded by family who shielded him with umbrellas. Seated in the dock, he pleaded guilty to five counts of aggravated dangerous driving occasioning death, at a speed more than 45km/h over the limit. The prosecutor immediately applied for him to be detained.
The victims' families carried photographs of their children and wore jumpers bearing words including "Forever Young" and images of angel wings as they watched on.
According to the agreed facts, Edwards was driving at 117.9km/h on a 60km/h stretch of East Parade in Buxton when he lost control of the Nissan Navara ute. It left the road and hit two trees. Nearby residents heard a car speeding and a "massive explosion", and called triple zero.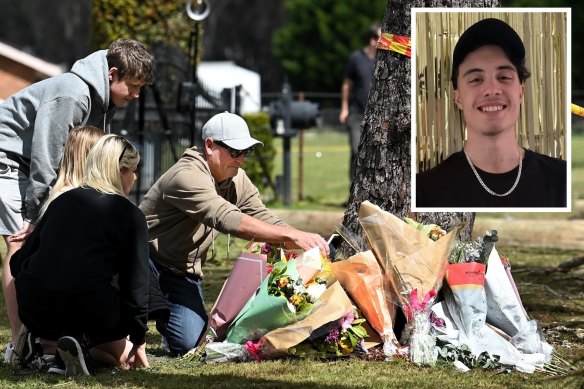 "As a result of the second impact, the rear cabin was torn open, and the rear seat ejected from the vehicle," the facts state.
That night Edwards had picked up 15-year-old Tyrese Bechard and 16-year-old Antonio Desisto, then Lily Van de Putte, 14, and Gabriella McLennan, 15, and finally 14-year-old Summer Williams.
All five passengers died at the scene.
Over the one hour and 43 minutes before the deadly collision at 7.53pm on September 6, 2022, Edwards, a P-plater, "frequently" exceeded the speed limit, at one point clocking 147km/h, according to the facts.
At 6.46pm, while driving and as loud music blared, Edwards held his mobile phone and filmed himself swerving the steering wheel. One of the boys yelled, "We're going to spin out cuz."
In a Snapchat video sent by Tyrese to Summer that night before she was in the car, Edwards said, "We are going 160 the whole way. The whole way. 160."
After the crash, Edwards called for help to get out of the vehicle.
"I'm gonna go to jail, I can't go to jail, I don't want to go to jail," he said. Asked what happened, he said, "I dunno if I fell asleep or if it was a kangaroo that ran out in front of me."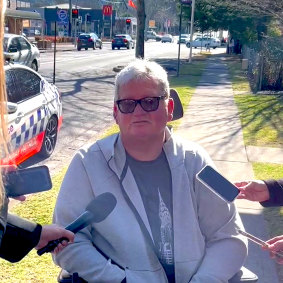 In his interview with police, Edwards made a series of statements including that he "only thought there were two girls that he picked up" in addition to the two boys, and he "didn't even know that there was another person in his car".
Edwards said that "sometimes when he was driving on the highway the vehicle would randomly pick up speed and then drop speed, but he didn't book it into the mechanic" and he wasn't sure what speed he was doing prior to the accident, but it was "probably the speed limit".
He further said "the steering wheel started shaking and then started going 'left to right' and when he tried to straighten it, it got worse", that he "tried to brake when the car started to shake, but it started sliding instead of stopping", and he had "experienced similar shaking before on the way to work a few weeks prior".
A police mechanical expert found no defects with the vehicle that might have been a contributing factor to the collision, and two mechanics who previously inspected the ute spoke of no faults, the facts state.
Defence lawyer Karen Watson attempted to keep Edwards at liberty until sentencing, arguing he needed to remain free for continued psychological treatment for post-traumatic stress disorder and major depressive symptoms. She conceded that he would be sentenced to full-time imprisonment.
But magistrate David Degnan revoked bail, saying he was not satisfied Edwards' situation amounted to special or exceptional circumstances.
"If it is necessary to take place, then it can take place whilst the offender is in custody," he said.
Degnan described the aggravated dangerous driving as "particularly egregious".
"It was dangerous driving repeated over a period of time, ultimately leading to the loss of control of the vehicle," he said.
He said the car was carrying five passengers, when it only had seatbelts for four passengers and a driver, and the impact at speed "had a devastating effect".
"This was a tragic incident involving the loss of five young lives," the magistrate said.
As the first anniversary of the crash nears, John Van de Putte spoke of the "think of the five, arrive alive" initiative, encouraging people to display balloons at the start of September in the favourite colours of the five children – orange, pink, purple, blue and silver – to trigger conversations about the consequences of foolish driving.
"Not once did I talk to her [Lily] about being safe in the car, so we need to start having that conversation," he said.
Edwards, who was committed for sentence, was led to a waiting police wagon and will be transferred into the custody of Corrective Services. The case returns to Campbelltown District Court on August 24.
Our Breaking News Alert will notify you of significant breaking news when it happens. Get it here.