Bush whacked: League's fight for survival
Rugby league is facing challenges in country NSW due to a lack of participation, funding and an aggressive approach by the AFL.
The record crowd of more than 10,000 attending the recent Wests Tigers versus South Sydney match in Tamworth – a city of 65,500 people with only one rugby league club – is a microcosm of the code in Australia.
The game is prospering at the elite level, demonstrated by the NRL's increasing attendance and rising TV ratings, but is struggling at the grassroots.
Tamworth's Scully Park, the venue of the round 22 NRL match, is now mainly used for visiting professional clubs, including A-League soccer teams, yet in 1966 the visitors were the Great Britain touring rugby league team, beaten by the locals.
Scully Park was also the home ground of the West Tamworth Robins which later merged with the Tamworth City Lions, only for the amalgamated entity to subsequently close, leaving the North Tamworth Bears as the city's only team in the Group 4 competition.
Ken Chillingworth, the man who built the West Tamworth League Club adjacent Scully Park, has a nearby oval named after him but it is the home ground of the strong Tamworth Pirates rugby union team.
Across the road is Tamworth High School which dominated the statewide University Shield competition in the 1960s and 70s but ceased fielding teams for a decade, started again, only to stop once more.
The city's No.1 Oval once staged the final of the Peel Schools Carnival, which proudly claimed to be the biggest one-day schoolboy rugby league tournament in the southern hemisphere.
The carnival is no longer held and the Oval now has AFL posts, being the home of the local Australian rules team, the Swans.
While Tamworth has only one rugby league club, some of the smaller towns in Group 4, such as Boggabri and Narrabri, field teams but they are dependent on players from the mines who work a week on and a week off. Manila, the town where a young John Quayle won a Group 4 premiership, couldn't field first and reserve grade teams and withdrew. Still, unlike other bush competitions where one team dominates via money from a rich benefactor, Group 4 has six teams chasing four semi-final spots.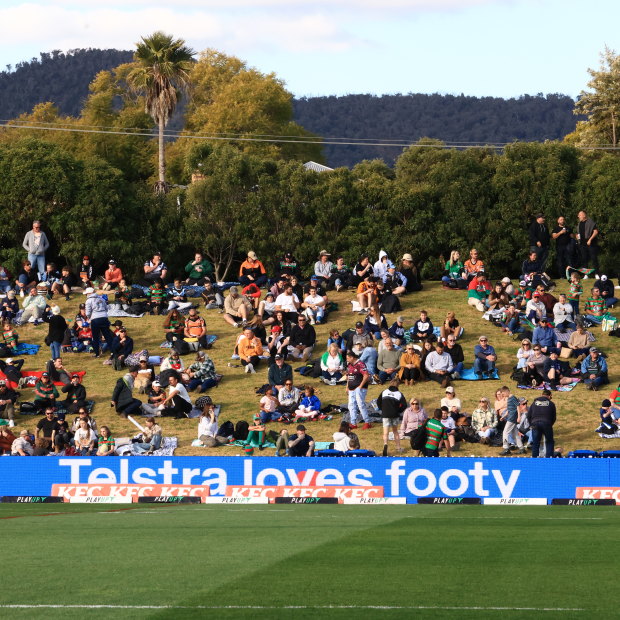 The best player in Group 4 is 32-year-old Scott Blanch, a North Tamworth hooker who can't play representative football because it is only available for 16 and 18-year-olds.
If the representative calendar is designed to suit NRL talent scouts, so are the games the NRL takes to the bush.
Wests Tigers charged a fee of $270,000 to move their home game to Tamworth, leaving Wests Entertainment Group, an affiliate of West Tamworth League Club, with a small profit after income from the gate and food and beverage sales. Asked if he thought the fee was a little steep, Group 4 president Terry Psarakis said he feared the Rabbitohs might have charged more. Psarakis said WEG received no assistance from the Australian Rugby League Commission or NSW Rugby League, but the NSWRL has no responsibility for NRL games.
If there is a dearth of local playing talent in the bush, there is also a shortage of willing volunteers.
Psarakis, also a board member of the League Club, said the club was willing to fund a team, if only someone would take responsibility.
Of his own role with Group 4, he said, "I put my hand up to run a meeting, not the whole show."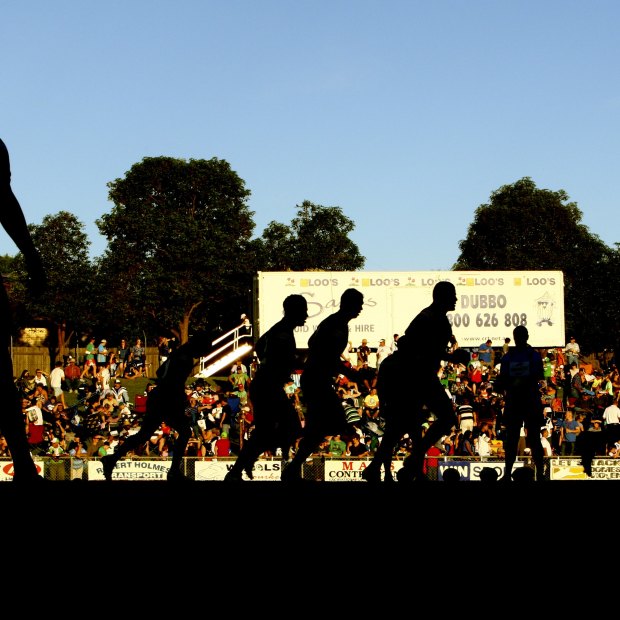 Another volunteer administrator, Group 9's Ray "Dossie" Carr wrote a letter to ARLC chair Peter V'landys and NSWRL chief executive David Trodden on July 5 last year, appealing to them to put their differences aside following their court action and aid bush football which he said was dying. The following is an abbreviation of the letter to which Trodden responded.
"We have teams forfeiting, clubs folding and all we are getting from governance is the 'game is healthy' in the bush.
"The AFL are running riot out here, handing out gear bags, Sherrin footballs and high-profile players putting in countless hours at our high schools, working with the age groups that count, out-numbering our foot soldiers ten (10) to one (1).
"We now have Group 9 fielding eight (8) first grade clubs, a massive drop from fourteen (14), with two of the existing reserve grade teams forfeiting at the weekend. In Group 8 we have first grade teams playing eleven (11) players a side in a locality where we have an NRL franchise.
"Senior clubs in Regional NSW are in dire straits, flooded with unnecessary paperwork, volunteers loaded with unnecessary tasks on game day, driving genuine workers away from their clubs. We are losing kids from thirteen (13) to eighteen (18) hand-over-fist for the simple reason, we have families travelling ridiculous kilometres when their young players first get involved in rugby league. When the time comes to promote these players into local grade teams and representative football the fun has disappeared, they have had a gutful and are lost forever."
Last month, I visited Carr's home of Tumut, along with former Kangaroos Les Boyd and Greg Brentnall, as well as Trodden, for what was billed as a Festival of Friends, a reunion of past premiership teams.
Tumut hosted fierce rivals Gundagai at their council-owned home ground, sarcastically named "Twickenham". A photo taken by a drone at the Tumut-Gundagai match shows, as Dossie says, "cars parked on the roadway, something that hasn't happened since the turn of the last century." The gate was in excess of $20,000. The best player was a young Tumut lock whose value was enhanced when Trodden noted that he helped the volunteers carry the goal post pads into the sheds after the match.
Based on Dossie's letter to the ARLC and NSWRL and the successful afternoon of bush football we witnessed, I was reminded of the poem, Said Hanrahan by John O'Brien, the pen name of Catholic priest Patrick Joseph Hartigan. The poem refers to the intrinsic pessimism of the bush, where Hanrahan lamented the drought, then the floods, then the bush fires, declaring "We'll all be rooned, Before the year is out."
However, Dossie deemed the Tumut versus Gundagai day, "an exaggeration", meaning atypical, pointing out that the game was between rival towns and all grades, including an impressive under-13 girls game, played on the one day.
He pointed out that the following weekend, the senior Tumut team played in Young, while Young juniors came to Tumut.
"Aussie rules in the Riverina have had this one-club policy for years, where the seniors and juniors are aligned," Dossie said. "We've got under 6-year-old teams travelling 400 kilometres on a round trip to get 25 minutes of football."
Asked how the governing bodies could help, Dossie pointed to the need for funds to correct the "crazy alignment" of clubs playing in different groups; monies for player registration, insurance and assistance in employing accredited coaches.
"All this has been tabled before," he said.
Farm mechanisation has reduced the need for rural labour, meaning some of the smaller Riverina towns can't field a team. However, local volunteer administrators have been inventive in solving some of the problems.
'We've got under 6-year-old teams travelling 400 kilometres on a round trip to get 25 minutes of football.'

Ray Carr
In 2014, they resurrected the Roddy Shield competition, originally named by an administrator who went to World War II with his best mate, Frank Roddy, who did not return. It folded, owing to inflated insurance charges but Tumut's six pubs joined with former Group 9 towns Adelong, Batlow and Tumbarumba to run a nine-a-side extended pre-season competition.
However, Dossie, who is 80, repeated the need for paid administrators, saying, "That's where Aussie rules beats us hands down. The rugby league governing body must take ownership of their product instead of counting on volunteers to do the work.
"The Group 9 draw is so irregular. Temora are minor premiers but, with byes, it's five weeks before they play a semi-final match."
Trodden explained that the ARLC grant to the NSWRL and QRL has been severely cut since COVID-19 and the court action and strict protocols have been imposed on how it is spent.
Trodden said that his organisation receives "a bucket of money" for the successful State of Origin competition and another "bucket" to administrate competitions across NSW, but that secondary funding does not prescribe money for grants to bush footy clubs and regions.
NRL chief executive Andrew Abdo said that participation and pathways is the key priority for the ARLC.
"Regional growth and investment in country areas is also a priority. The Commission has set up Participation Australia to focus on outcomes in this area," Abdo said
"If we receive a proposal or business case from the state leagues for regional football initiatives it will be prioritised. The funding of state leagues will be based on outcomes that are aligned to growth. It is important that we have clear goals and targets to align with everyone in the game. The Commission is seeking accountability for outcomes."
Up in Tamworth, Richie Thornton, a former captain of a University Shield winning team, an ex-Panther and a retired businessman, said he listened to a Monday morning sports news bulletin on local radio a week following the record crowd for the West Tigers match. It encapsulated a code prosperous at the top but facing an existential threat at the bottom.
"Rugby union was the first sport mentioned on the radio, then soccer and either AFL or rugby league was last," he said. "Aussie rules didn't exist up here in my day."
Stream the NRL Premiership 2023 live and free on 9Now.
Sports news, results and expert commentary. Sign up for our Sport newsletter.