Alarm sounds on insurance as Australia's natural disaster risk surges
Global insurer QBE has warned that Australia and New Zealand have become riskier countries in the eyes of reinsurers, which help insurance companies manage risk, after a recent run of costly natural disasters.
Reinsurers play a vital role in the market by allowing consumer-facing insurance companies to offload some of their risk, which limits the financial hit from a major event such as a natural disaster. Recently, however, the cost of reinsurance has increased significantly, and this is feeding into higher premiums.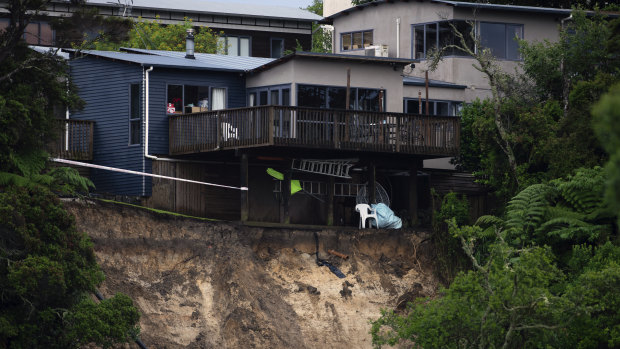 At QBE's half-year results on Thursday, chief executive Andrew Horton said reinsurers had in recent times judged this part of the world be riskier – a trend that has also been raised by domestic-focused insurance companies.
Australia's insurance sector has been recovering from a run of disasters, and the east-coast floods of early 2022 were the most expensive insurance event in the nation's history, surpassing the previous record held by a 1999 Sydney hail storm.
Horton said QBE was different to other insurers because it purchased one global program of reinsurance, rather than one purely for the Australian market, but higher reinsurance rates were one reason premiums have been increasing.
"I think in times gone by, reinsurers saw Australia and New Zealand as lower risk areas, where they probably charged less than they would do... in the US because the US has had hurricanes for years and therefore they charge for that," Horton said.
"So I think their view of Australia and New Zealand is... it is a more risky area than it has been before."
QBE faced increased reinsurance costs from the start this year, and Horton said it had been incorporating these into its premiums.
"I would say the reinsurance market didn't really respond that much up until the end of last year, and then it all caught up with them, and then it was quite a big knee-jerk reaction, not only here but throughout the rest of the world," he said.
Thursday's results showed QBE's profits rebounded to $US400 million, from $US48 million, helped by a rise in premiums, which have also been pushed higher by higher costs from disasters and the effects of inflation.
QBE said that on average, premiums across the group had lifted by 10.2 per cent during the half, and 11.8 per cent in Australia.
The result was below market expectations and QBE shares fell 1.25 per cent to $15.40 in afternoon trade.
Despite the result missing analysts' forecasts, UBS analyst Scott Russell said the fact QBE had maintained its guidance should foster confidence in the company's outlook for the near-term.
QBE said catastrophe costs had exceeded its allowance for the half, as it was hit by a range of disasters including flooding in New Zealand, tornadoes and hail storms in the United States, and an earthquake in Turkey. Underlining the cost of disasters, QBE said New Zealand had endured two of its most costly catastrophe events on record in the half – Cyclone Gabrielle and the North Island flooding.
The surge in insurance premiums after the run of natural disasters in recent years has also prompted a parliamentary inquiry into the matter.
Suncorp chief executive Steve Johnston this week also said rising reinsurance costs were a key reason for recent rise in home insurance premiums, though he predicted the pressure could start to ease in about six months.
The Business Briefing newsletter delivers major stories, exclusive coverage and expert opinion. Sign up to get it every weekday morning.